Marjorie Eaton (February 5, 1901 – April 21, 1986) was an American actress and painter[1] who portrayed Emperor Palpatine in the pre-DVD version of the second Star Wars film, The Empire Strikes Back.[2]
Born in California on February 5, 1901, Eaton became a resident of San Francisco in 1923-32 and studied at the California School of Fine Arts, later continuing her studies at the Art Students League of New York. She studied in Europe from 1928 to 1932, and from 1934 to 1937, lived in Taos, New Mexico. Later she pursued a career as an actress and painted in her leisure. She died at her home in Palo Alto, California on April 21, 1986[1] after suffering a stroke a month prior.[3]
Also given her birth as Februrary 5, 1901, she is the earliest born Star Wars performer, and the earliest born in the 20th century.
Filmography
Edit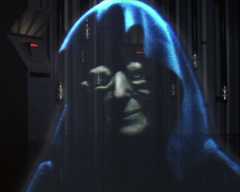 Star Wars
Edit
Other notable work
Edit
Notes and references
Edit
External links
Edit