Jurassic World: Dominion Dominates Fandom Wikis - The Loop
Play Sound
Mark Hamill (born in Oakland, California on September 25, 1951) is an actor, best known for his portrayal of Luke Skywalker in the original and sequel Star Wars trilogies and as The Joker in various media, starting with Batman: The Animated Series. Hamill's film career since Star Wars has been mostly connected to lower-budget science fiction movies, but he has been successful on Broadway, as a voice actor in animation and video games, and as a comic book creator.
Biography
[
]
Original Trilogy
[
]
"I lit up when I found out that they were going to make my face a mask on a box of cereal. With little dots where to cut my eyes out. The idea of me being on bubble gum cards... I thought you had to have athletic ability to be a bubble gum card. So I enjoyed the merchandising aspect of it."
―Mark Hamill, on the success of Star Wars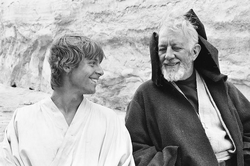 Hamill found fame with the hero role of Luke Skywalker in Star Wars in 1977. He was originally cast as David on "Eight Is Enough," and asked to be released from his contract before Star Wars came out because he sensed the movie would be successful. Hamill wanted to focus on his movie career. At last his producers agreed to remove him from the series.
In January 11, 1977, a day before he was set to shoot one of the final scenes needed for the film, Hamill was involved in a car accident that caused minor damage to his face. A double was used for the scene of Luke racing across the desert in his landspeeder while Mark was hospitalized. In an A&E Network Biography special, "Mark Hamill: A Force to Be Reckoned With," the auto accident and its consequences are recounted by Mark's family.
As a result of this scarring, Hamill wore an extensive amount of facial makeup when he reprised his role as Luke for The Star Wars Holiday Special, which was released in 1978. A common myth is that the slight damage to Mark's face was explained in-universe in The Empire Strikes Back by the scene where he is mauled by a Wampa. His son Nathan was born while he was shooting Episode V. Before the film's climactic lightsaber duel between Luke Skywalker and Darth Vader, Lucas told Hamill the truth about Vader being Luke's father.
Sequel Trilogy
[
]
"All of this, happening to me again was... it's hard to put into words. I figured when the prequels came out, plus a few years, people would forget about us. But it never really went away."
―Mark Hamill on the sequel trilogy
George Lucas once considered doing a sequel trilogy in which Hamill would reprise the role of an older and wiser Luke Skywalker as an Obi-Wan-like Jedi Master in his sixties training a new era of Jedi Knights, including the protagonist of the sequels set against the backdrop of the rebuilding of the Republic and the dismantlement of the last remnants of the Empire. It would be filmed around 2011. Lucas long dismissed this as an off-hand comment, but then on October 30, 2012, the talk of a possible sequel, to be released in 2015, was back in the news when Lucasfilm was sold to Disney. After production officially started on The Force Awakens, rumors spread that Disney would hire Hamill and the other stars of the original trilogy to reprise their roles. The rumors were eventually confirmed in 2014 with the first major casting announcement, which confirmed that Mark Hamill would play Luke Skywalker once again.
Star Wars voice cameos

[

]
In 2021, Hamill responded on Twitter to a tweet by the official Wookieepedia account about his voice cameo[2] as EV-9D9 in The Mandalorian episode "Chapter 5: The Gunslinger."[3] Hamill said that he had provided voice cameos for every Star Wars film released since 2015.[2] Although he had tweeted about this previously[4] and shared his pseudonym, "William M. Patrick" for his older and younger brothers,[5] his response to Wookieepedia was picked up by media outlets such as People[6] and IGN.[7]
References to Star Wars

[

]
Mark Hamill appeared as Luke Skywalker in a few shows, including The Bob Hope All Star Christmas Comedy Special, The Muppet Show, Family Guy, Robot Chicken, and The Late Show With Stephen Colbert.[8]
He quoted Star Wars at least twice in his comic book roles: as Joker, he said "May the floss be with you"; and as Trickster, he said "I am your father," as a role-reversal line from The Empire Strikes Back.
Hamill played the villain "Cocknocker" in the 2001 Kevin Smith film Jay and Silent Bob Strike Back;[9] The film makes multiple references to Star Wars, including a lightsaber-esque battle between Hamill's character and the title characters.
Hamill voiced co-star Harrison Ford (as Han Solo) in 2017 for the spoof video The Force Awakens: A Bad Lip Reading.[10]
Filmography
[
]
Radio
[
]
Sources
[
]
Mark Hamill: Full of Surprises on StarWars.com (content now obsolete; backup link)
Star Wars: Episode VII Adds Academy Award Winner Lupita Nyong'o and Game of Thrones

'

Gwendoline Christie on StarWars.com (backup link)
A #JediDay Long Remembered: Mark Hamill Honored with Star on Hollywood Walk of Fame on StarWars.com (backup link)
"The Most Physically Grueling of Them All": Mark Hamill on Star Wars: The Empire Strikes Back on StarWars.com (backup link)
Animal Actors | Star Wars Full Circle on the official Star Wars Kids YouTube channel (backup link)
Disney Gallery: The Book of Boba Fett | Disney+ on the official Star Wars YouTube channel (backup link)
Dave Filoni joins us on stage at SWCA 22 | Star Wars Celebration LIVE! on the official Star Wars YouTube channel (backup link)
Star Wars Celebration LIVE! - DAY 4 on the official Star Wars YouTube channel (backup link)
Notes and references
[
]
↑ A New Lightsaber from Star Wars: The High Republic, Building The Mandalorian's Ship, and More! on the official Star Wars YouTube channel (backup link)
↑ 2.0 2.1 Mark Hamill (@HamillHimself) on Twitter: "Did you know... I voiced multiple secret voice-cameos in every movie released since 2015?* *(Sequels, Solo, Rogue One)" (backup link)
↑ Mark Hamill (@HamillHimself) on Twitter: "Now that @themandalorian secret is out-might as well reveal I am vocally represented in ALL SW films except the Prequels. Thanks to @matthewood for using me in Rogue One, Solo & the Sequels, so I DO have lines in . Hint: Look for parts played by Patrick Williams." (backup link)
↑ Mark Hamill (@HamillHimself) on Twitter: "It was never about billing (L- R-) or salary. It was for fun & the fans & because I❤️! I misremembered my pseudonym as "Patrick Williams"-It was actually "William M. Patrick" (for my older & younger brothers) I'm not telling what the M. stands for." (backup link)
↑ Russian, Ale: "Mark Hamill Reveals He's Secretly Appeared in Every Star Wars Movie Since 2015" (2021-07-23). People. Wikipedia:Meredith Corporation. Archived from the original on July 24, 2021.
↑ LeBlanc, Wesley: "Mark Hamill Did Secret Voice Cameos for Every Star Wars Movie Since 2015" (2021-07-21). IGN. Ziff Davis. Archived from the original on July 23, 2021.
↑ Perkins, Dennis: Mark Hamill indulges Stephen Colbert's inner Star Wars geek on The Late Show (2017-12-09). avclub.com. avclub.com. Archived from the original on November 21, 2019.
↑ Jay and Silent Bob Strike Back DVD commentary
External links
[
]