Mark Hamill (born in Oakland, California on September 25, 1951) is an actor, best known for his portrayal of Luke Skywalker in the original and sequel Star Wars trilogy and as The Joker in Batman: The Animated Series. Hamill's film career since Star Wars has been mostly connected to lower-budget science fiction movies, but he has been successful on Broadway, as a voice actor in animation and video games, and as a comic book creator.
Biography
Edit
Early life
Edit
Mark Hamill was born in Oakland, California on September 25, 1951. His parents are Virginia Suzanne and William Thomas Hamill. His father was a captain in the U.S. Navy. Hamill has two brothers, Will and Patrick, and four sisters, Terry, Jan, Jeanie, and Kim. He is the 4th of 7 children. As a child, his father's career meant numerous relocations, and he attended different schools throughout his childhood. For 10th grade, he attended Annandale High School located in Annandale, Virginia, but eventually ended up graduating from Nile C. Kinnick High School in Japan. He majored in drama at Los Angeles City College. Hamill made his acting debut on The Bill Cosby Show (1969) in 1970. He played a continuing role (Kent Murray) in TV's General Hospital (1963) and co-starred in the respected TV comedy series The Texas Wheelers (1974).
Star Wars
Edit
"I lit up when I found out that they were going to make my face a mask on a box of cereal. With little dots where to cut my eyes out. The idea of me being on bubble gum cards... I thought you had to have athletic ability to be a bubble gum card. So I enjoyed the merchandising aspect of it."
―Mark Hamill, on the success of Star Wars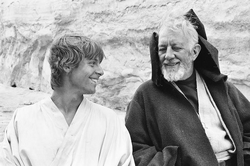 Hamill found fame with the hero role of Luke Skywalker in Star Wars in 1977. He was originally cast as David on "Eight Is Enough", and asked to be released from his contract before Star Wars came out because he sensed the movie would be successful. Hamill wanted to focus on his movie career. At last his producers agreed to remove him from the series.
In January 11, 1977, a day before he was set to shoot one of the final scenes needed for the film, Hamill was involved in a car accident that caused minor damage to his face. A double was used for the scene of Luke racing across the desert in his landspeeder while Mark was hospitalized. In an A&E Network Biography special, "Mark Hamill: A Force to Be Reckoned With," the auto accident and its consequences are recounted by Mark's family.
As a result of this scarring, Hamill wore an extensive amount of facial makeup when he reprised his role as Luke for The Star Wars Holiday Special, which was released in 1978. A common myth is that the slight damage to Mark's face was explained in-universe in The Empire Strikes Back by the scene where he is mauled by a Wampa. His son Nathan was born while he was shooting Episode V. Before the film's climactic lightsaber duel between Luke Skywalker and Darth Vader, Lucas told Hamill the truth about Vader being Luke's father.
"All of this, happening to me again was... it's hard to put into words. I figured when the prequels came out, plus a few years, people would forget about us. But it never really went away."
―Mark Hamill on the sequel trilogy
George Lucas once considered doing a sequel trilogy in which Hamill would reprise the role of an older and wiser Luke Skywalker as an Obi-Wan-like Jedi Master in his sixties training a new era of Jedi Knights, including the protagonist of the sequels set against the backdrop of the rebuilding of the Republic and the dismantlement of the last remnants of the Empire. It would be filmed around 2011. Lucas long dismissed this as an off-hand comment, but then on October 30, 2012, the talk of a possible sequel, to be released in 2015, was back in the news when Lucasfilm was sold to Disney. After production officially started on The Force Awakens, rumors spread that Disney would hire Hamill and the other stars of the original trilogy to reprise their roles. The rumors were eventually confirmed in 2014 with the first major casting announcement, which confirmed that Mark Hamill would play Luke Skywalker once again.
Beyond Star Wars
Edit
"I can't imagine it [portraying Batman] without him. And we work so well together. I wish that the audience could... because I know he has a huge and loyal following, and the audience does know how great he is, but if they could see him in the recording studio they would have 100 times more admiration for him because he's a really talented actor and his whole body gets thrown into the performance. I mean, it looks like the guy's gonna devour the microphone, he's just so all over the studio. He's a very exciting guy to work with, he's a very creative, intelligent actor. Much more than the average actor."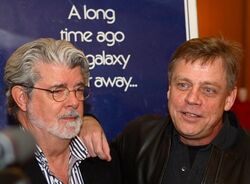 After the success of Star Wars, Hamill found that audiences and movie companies identified him very closely with the role of Luke Skywalker. He worked in a variety of other works such as voice acting (even before he started live-action performing), and in the '90s, he acted as Col. Blair in the "Wing Commander" franchise. He attempted to avoid typecasting by appearing in Corvette Summer and the better-known WWII film, The Big Red One. As the 1980s wore on, Hamill did little film work outside of Star Wars, though. The actor retreated to the Broadway stage and he starred in Amadeus, The Elephant Man, Harrigan and Hart (a musical for which he received a Drama Desk Award nomination), and other stage plays, for which he received positive reviews. Despite his stints on Broadway, Hamill has had an expansive film career. He played the bad guy (known as Hawkins) in the Swedish action movie Hamilton in 1998. Some of his other film credits include Corvette Summer, The Night the Lights Went Out in Georgia, Britannia Hospital, Slipstream, The Guyver (in which he played a police officer turned into a mutant slug with a man's face), and the 1995 remake of Village of the Damned. Also, he made an appearance as himself in Jay and Silent Bob Strike Back. He narrated the four-part documentary on the influence of science fiction upon present society, The Sci-Fi Files. In 2001, Hamill starred in the feature film Thank You, Good Night as a pragmatic father alongside Christian Campbell, J.P. Pitoc, and Sally Kirkland. He voiced the character of Chanukah Zombie for the 2007 straight-to-DVD release Futurama: Bender's Big Score.
In 1995, he voiced multiple characters in Full Throttle, a video game developed and published by LucasArts.
Being an avid comic book fan, Hamill also appeared as the super-villain The Trickster twice in the 1990s The Flash live-action television series, and later returned to the role in the Justice League Unlimited animated series and the 2014 The Flash live-action series. The notoriety from this role helped him secure his famous animation voice role as The Joker on Batman: The Animated Series, Justice League, and the video games Batman: Arkham Asylum, Arkham City and Arkham Knight. He quoted Star Wars at least twice in his comic book roles: as Joker, he said "May the floss be with you"; and as Trickster, he said "I am your father", as a role-reversal line from The Empire Strikes Back.
Mark Hamill has also provided the voice acting for several animated characters in the past decade, ironically finding himself typecast as a player of villains. The roles include as The Joker on various animated series and video games; Skeleton King on Super Robot Monkey Team Hyperforce Go, Captain Stickybeard in Codename: Kids Next Door,[1] Undergrowth on Danny Phantom and Hobgoblin on Spider-Man: The Animated Series. He does multiple voices for the popular Adult Swim show Metalocalypse, most notably being Mr. Salacia, the primary antagonist of the series. Since 2010, Hamill has been the voice of Skips the yeti in Cartoon Network's Regular Show.
Hamill also guest-starred in the CBS drama series, "Criminal Minds," playing serial killer John Curtis AKA The Replicator.
Hamill also was the voice for Von Ness and Black Phantom in Lego's Hero Factory episodes/movies.
Hamill is also the co-writer of The Black Pearl, a comic book miniseries published by Dark Horse Comics. He also wrote an introduction to the trade paperback Batman: Riddler & Two-Face which reprints various stories of the title villains to tie in with the 1995 film Batman Forever.
Hamill also voiced the character Arnim Zola in the animated movie Avengers Assemble and the animated TV series Spider-Man.
Personal life
Edit
On December 17, 1978, he married dental hygienist Marilou York. They have three children—Nathan (born June 25, 1979), Griffin (born March 4, 1983), Chelsea (born July 27, 1988). They also have one grandchild from Nathan: Autumn Hamill (b. October 31, 2016).
Star Wars filmography
Edit
Hamill played the villain "Cocknocker" and the voice of Scooby-Doo in the 2001 Kevin Smith film Jay and Silent Bob Strike Back;[5] The film makes multiple references to Star Wars, including the title itself, a cameo by Carrie Fisher, and a lightsaber-esque battle between Hamill's character and the title characters. Hamill wrote, directed and starred in 2004's Comic Book: The Movie, which included cameos from Jeremy Bulloch, Jim Cummings, Paul Dini, Tom Kenny, Stan Lee, Peter Mayhew, David Prowse, Kevin Smith, Tara Strong, and James Arnold Taylor.
Hamill voiced co-star Harrison Ford in the Robot Chicken episode "Plastic Buffet," in which he also voiced himself; He again voiced Ford in 2017 (this time as Han Solo) for the spoof video The Force Awakens: A Bad Lip Reading.[6] He performed a number of voices for Avatar: The Last Airbender, for which Star Wars: The Clone Wars supervising director Dave Filoni served as director and writer.
Bibliography
Edit
Notes and references
Edit
External links
Edit
Community content is available under
CC-BY-SA
unless otherwise noted.