Marvel Comics is one of the largest companies in the world of comic books. They were the company to first release comic books for the Star Wars saga, with their Star Wars series.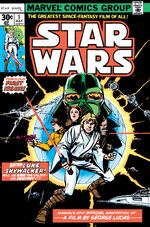 Marvel began in 1939 as Timely Comics, publishing popular superhero titles. In the 1950s, as Atlas Comics they published mainly other genres such as romance, crime, western, and war stories. By the 1960s, the superhero genre was becoming popular again, and the newly named Marvel Comics started creating a number of new superhero titles written by Stan Lee and illustrated by Jack Kirby. During the 1970s Marvel's sales were declining and the company was in trouble caused, in part, by poor distribution.
In the late 1970s, Marvel Comics President, Stan Lee, was approached by Charles Lippincott to produce a Star Wars comic as a promotion. Lee was highly reticent with the proposal for the project considering the film was still in production, until his protege, Roy Thomas, persuaded him otherwise. Even then Lee, citing the poor sales history of comic book adaptations, negotiated a quota of 100,000 copies to be sold before any royalties to Lucasfilm could be discussed.[1]
The resulting series turned out to be smash success, in 1977 after prodding by Roy Thomas, as well as burgeoning successes like The Uncanny X-Men and Daredevil. Jim Shooter, editor-in-chief of Marvel from 1978 to 1987, would later say in an interview regarding the importance of Star Wars to the plight of the company, "Star Wars single-handedly saved Marvel... And that kept us alive." [2] The only downside was that that 100,000 quota was surpassed quickly, allowing Lippincott to renegotiate royalty arrangments from a position of strength.[1]
Marvel also published stories in Britain under the imprint Marvel UK. In addition to reprinting the American Star Wars comics, the UK series produced a number of original stories.
Marvel continued to publish Star Wars comics until 1986, and the Droids and Ewoks series until 1987. The comic-book license for Star Wars was later picked up by Dark Horse Comics, which began producing Star Wars comics in 1991 with the publication of Dark Empire. Dark Horse would later reprint much of the Marvel-produced Star Wars material under the title Classic Star Wars.
In 2009, Marvel was bought by The Walt Disney Company. Their former collaborator, Lucasfilm Ltd., followed suit three years later, when George Lucas sold the rights to his company to Disney.
On January 3, 2014, an announcement was made that the Star Wars comics license was moving from Dark Horse back to Marvel in 2015.[3]
Published series
Edit
Miniseries
Edit
One-shots
Edit
Published collections
Edit
Miniseries
Edit
One-shots
Edit
Published collections
Edit
Canceled series
Edit
Current series
Edit
Forthcoming series
Edit
Miniseries
Edit
Forthcoming collections
Edit
Bibliography
Edit
Notes and references
Edit
↑ 1.0 1.1 Jenkins, Garry. Empire Building: The Remarkable Real-Life Story of Star Wars. Simon & Schuster, New York City (1997).
↑ Thomas, Michael (2000-10-06). Jim Shooter Interview: Part 1. CBR. Archived from the original on January 11, 2002.
↑  Disney's Lucasfilm and Marvel Entertainment Join Forces to Publish Star Wars Comics and Graphic Novels on StarWars.com (backup link)
External links
Edit
Community content is available under
CC-BY-SA
unless otherwise noted.