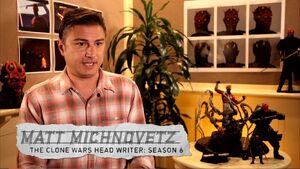 Matt Michnovetz was the head writer for the Star Wars: The Clone Wars television series' sixth and seventh seasons.[1] He wrote the episodes "The Citadel," "Counterattack," "Citadel Rescue," "Darkness on Umbara," "The General," "Plan of Dissent," and "Carnage of Krell."[2] He wrote a four-episode arc about Cad Bane and Boba Fett,[3] and another four-episode arc with the Bad Batch and Yoda on Kashyyyk, which was not finished before the series' cancellation.[4] Additionally, Michnovetz co-wrote a four-episode arc alongside Aïda Mashaka Croal that featured Maul, which, due to the show's cancellation, was not completed either. However, it was instead adapted into a four-issue comic book by Jeremy Barlow, entitled Star Wars: Darth Maul—Son of Dathomir.[5]
Michnovetz also wrote several episodes of Star Wars Rebels beginning in its second season, with his first episode being "The Lost Commanders."[6] He will also write episodes of the upcoming Disney+ show Star Wars: The Bad Batch.[7]
↑ Rebels Report #2: Behind the Scenes with Brent Friedman. Rebels Report (2013-11-22). Archived from the original on November 28, 2013. Retrieved on November 23, 2013.
↑  The Clone Wars Episode Guide: Counterattack on StarWars.com (content now obsolete; backup link)
↑ Matt Michnovetz (@MattMichnovetz) on Twitter: "@CarieIsSoVery You bet!" (backup link)
↑ Brent Friedman (@BFree63) on Twitter: "@MattMichnovetz wrote that arc, and he writes for Rebels!" (screenshot)
↑ Star Wars Rebels: The Lost Commanders. WATCHDisneyXD.com. Archived from the original on October 17, 2015. Retrieved on October 15, 2015.
↑ Matt Michnovetz on Instagram: Michnovetz announcing The Bad Batch (July 13, 2020). "(You writing any episodes of the series, Matt?) - yep" (screenshot)
Community content is available under
CC-BY-SA
unless otherwise noted.