Jurassic World: Dominion Dominates Fandom Wikis - The Loop
Play Sound
"We're such big Star Wars fans, and set out to create an authentic and immersive Star Wars experience for players that also embodies the self-expression and deep storytelling possibilities with The Sims."
―Lyndsay Pearson, Maxis executive producer and general manager
Maxis is an American video game development studio and subsidiary of Electronic Arts. The studio is best known for the life simulation game series SimCity and The Sims. Since 2014, Maxis has developed Star Wars-themed content for The Sims 4, with a series of free updates adding wearable costumes and a decorative statue while a downloadable content pack, Journey to Batuu, added hundreds of themed Star Wars items as well as entire locations and storylines in 2020.
History
[
]
Founding and acquisition
[
]
Maxis was founded in 1987 by Will Wright and Jeff Braun. The company was initially created to be a publishing vehicle for the first SimCity video game, but soon began to develop further titles.[1] On July 28, 1997, Maxis was officially acquired by Electronic Arts and began to function as a subsidiary studio within the company.[3] After the acquisition,[1] Maxis became known for The Sims franchise.[5] Since 2004, Maxis has operated a studio out of Electronic Arts' offices in Redwood Shores, California.[6] In 2015, the facility became the company's headquarters.[2]
Star Wars content updates

[

]
"It might not be Halloween yet, but that doesn't mean you can't throw awesome Star Wars-themed parties in The Sims 4! Just be sure to keep the Sim dressed like Darth Vader away from the Sim dressed like Darth Maul – we don't want to fall into any plot holes, here. Happy Star Wars day everyone!"
―Jonathan Hollander Cooper, Maxis social media manager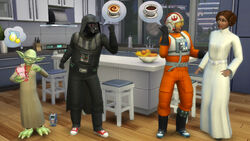 On May 6, 2013, Disney and Electronic Arts jointly announced that Electronic Arts would hold exclusive rights to make Star Wars video games for the next several years.[8] After the release of The Sims 4 on September 2, 2014,[9] Maxis began adding Star Wars-themed content to the game in a series of free updates.[10]
In October 2014, as part of a Halloween-themed update to The Sims 4, Maxis released costumes of characters Princess Leia Organa, Darth Vader, and Yoda, as well as a Rebellion flight suit.[10] In celebration of May 4th, Maxis released additional costumes of characters Boba Fett, Darth Maul, and Aayla Secura in 2015.[7] In June 2016, a content update added additional gender neutral and LGBTQ+-inclusive versions of the previously released Star Wars costumes.[11] In 2019, a statue of the character Grogu was added to the game to celebrate the release of the Disney+ series The Mandalorian.[12]
Journey to Batuu

[

]
"We have a lot of Star Wars fans here on The Sims, and we have always wanted to incorporate it into a larger, more fleshed out gameplay experience. When we learned more about Star Wars: Galaxy's Edge, we thought it was such a unique setting that has so much more to explore. This was a perfect opportunity for us to jump in and provide fans and players with an experience that coincides with their experiences at Star Wars: Galaxy's Edge."
―Antonio Romeo, Maxis associate producer, on The Sims 4 Star Wars: Journey to Batuu
On August 27, 2020, Maxis and Electronic Arts announced that Star Wars: Journey to Batuu, a downloadable content pack for The Sims 4, was in development in partnership with Lucasfilm. The title was released on September 8 of that year.[14]
Journey to Batuu featured a recreation of Black Spire Outpost from the Star Wars: Galaxy's Edge theme park lands and allowed players to explore the planet Batuu, wield lightsabers, build droids, and interact with key characters from the sequel trilogy including Rey and Kylo Ren. Players could also choose to complete special missions for the Resistance, the First Order, or pirates such as Hondo Ohnaka.[15]
Gameography
[
]
Sources
[
]
Notes and references
[
]
↑ 1.0 1.1 1.2 1.3 1.4 Keighley, Geoff: GameSpot's SIMply Divine: The Story of Maxis Software. GameSpot. ZDNet. Archived from the original on May 8, 1999. (Content now obsolete)
↑ 2.0 2.1 Sarkar, Samit: EA shuts down Maxis Emeryville, studio behind SimCity (2015-03-04). Polygon. Vox Media, LLC. Archived from the original on March 4, 2015.
↑ 3.0 3.1 Keighley, Geoff: Maxis Now Under EA's Wing (1997-07-28). GameSpot. ZDNet. Archived from the original on April 23, 1999. (Content now obsolete)
↑ Adventure to the Edge of the Galaxy in The Sims™ 4 Star Wars™: Journey to Batuu Game Pack on Electronic Arts' official website (backup link)
↑ Feldman, Curt: Electronic Arts moves Maxis (2004-02-11). GameSpot. Red Ventures. Archived from the original on February 11, 2015.
↑ 7.0 7.1 7.2 Celebrate Star Wars™ Day with New Costumes in The Sims 4 on Electronic Arts' official website (backup link)
↑ Electronic Arts Selected for Multi-Year Agreement for the Future of Star Wars Gaming on StarWars.com (backup link)
↑ 10.0 10.1 10.2 Get Spooky in The Sims 4 This Halloween on Electronic Arts' official website (backup link)
↑ 11.0 11.1 Associated Press, The: 'The Sims' Removes Gender Barriers in Video Game (2016-06-02). The Hollywood Reporter. Penske Media Corporation. Archived from the original on July 13, 2020.
↑ 12.0 12.1 Lee, Julia: A strangely lifeless Baby Yoda is now in The Sims 4 (2019-12-12). Polygon. Vox Media, LLC. Archived from the original on January 1, 2020.
↑ How The Sims 4 Star Wars: Journey to Batuu Will Take Us to the Galaxy's Edge – Exclusive on StarWars.com (backup link)
External links
[
]