Spider-Man: No Way Home Trailer Dropped - The Loop
Play Sound
"I need an analysis of this blood sample I'm sending you."
"Wait a minute."
―Jinn asks Kenobi to run an analysis on the meson taloscope
Meson taloscopes were a type of analytical equipment that could be used to measure the number of Midi-chlorians in an individual's blood. The Naboo Royal Starship was equipped with state of the art meson taloscopes, and in 32 BBY the Jedi Padawan Obi-Wan Kenobi used one of the vessel's taloscopes to analyze the blood of the slave Anakin Skywalker.
Description
[
]
Meson taloscopes were a piece of analytical equipment that consisted of a square silver base with a high resolution eyepiece and a talo-effect lens mounted on top of it amongst various exposed circuitry.[1] When turned on, red and green lights would flash around the base of the taloscope and it would emitted various electronic noises.[2]
History
[
]
"The reading is off the chart. Over twenty thousand."
―Kenobi reports the results from the taloscope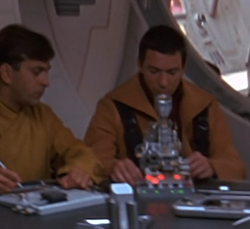 In 32 BBY,[3] the J-type 327 Nubian starship that served as the Naboo Royal Starship was equipped with a state of the art meson taloscope.[1] While the starship was stuck on the planet Tatooine due to a damaged hyperdrive, one of the pilots of the Naboo Royal Space Fighter Corps was sat at a table in the starship's main hold with a member of the Theed Hangar's ground crew. The pilot made use of the taloscope with the ground crewman watching while the Jedi Padawan Obi-Wan Kenobi spoke with his Master Qui-Gon Jinn via comlink.[2]
Kenobi later made use of a separate meson taloscope on board the ship when Jinn sent through data from a sample of the slave Anakin Skywalker's blood for analysis. After turning on the machine, Kenobi looked at the results on a monitor and discovered that Skywalker's Midi-chlorian count was off the charts, making it higher than twenty thousand.[2]
Behind the scenes
[
]
Two distinct meson taloscope props were created for the 1999 prequel trilogy film, Star Wars: Episode I The Phantom Menace.[2] The first of these, the prop used by the pilot, was first identified in the new Star Wars canon by the 2018 reference book Star Wars: The Complete Visual Dictionary, New Edition.[1] The name for the prop originated in the Star Wars Legends continuity, where it was first used in the 1999 reference book Star Wars: Episode I The Visual Dictionary, which was written by David West Reynolds.[4] The second prop, used by Kenobi, was first identified as also being a meson taloscope by Star Wars Identities: The Exhibition,[5][6] an exhibition that has been running since 2012.[7]
Appearances
[
]
Sources
[
]
Notes and references
[
]