Jurassic World: Dominion Dominates Fandom Wikis - The Loop
Play Sound
"There are some things in life, you just gotta laugh at it. There comes a point, you just gotta throw your hands up and, you know what, it just wasn't meant to be."
―Michael Kenneth Williams on being recast in Solo: A Star Wars Story
Michael Kenneth Williams (November 22, 1966 – September 6, 2021), also known as Michael K. Williams, was an American actor, dancer, and reporter. Williams was cast as Dryden Vos in the 2018 film Solo: A Star Wars Story and filmed scenes with the rest of the cast. Due to scheduling conflicts, Williams was unable to reprise his role as Vos in the film's reshoots helmed by Ron Howard after the film's initial directors, Phil Lord and Christopher Miller, departed the project. The role of Vos was recast with actor Paul Bettany.
Biography
[
]
"Even though I didn't make the final cut, they're still my cast mates. I love you guys."
―Michael Kenneth Williams on his Solo: A Star Wars Story cast mates
Michael Kenneth Williams was an American actor, dancer, and reporter.[3] Born on November 22, 1966 in Flatbush, New York,[1] Williams began to pursue acting at age 22.[3] Throughout his career, Williams garnered five Primetime Emmy nominations.[2]
On March 6, 2017, StarWars.com announced that Williams had been cast in an undisclosed role in the then-untitled film Solo: A Star Wars Story.[6] The role would later be revealed to be that of crime lord Dryden Vos. Williams filmed many scenes for the film[5] during its initial photography with original directors Phil Lord and Christopher Miller from February 20, 2017[7] to June 20, 2017.[8]
Williams filmed his role as Vos using motion capture technology.[5] The character, as Williams portrayed him, was envisioned to be "half mountain lion, half human."[9] After directors Lord and Miller departed Solo mid-production in June 2017,[8] Williams was unable to reprise his role in the remainder of the film's production due to scheduling conflicts.[10]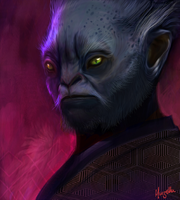 Solo was due to resume filming in July 2017[10] with new director Ron Howard,[11] overlapping with the shooting schedule for the television series Hap and Leonard, which Williams was contracted to star in. In order to retain Williams for the role of Vos, Lucasfilm would have had to have waited for production on the series to conclude in November 2017, which would have forced the studio to delay Solo from its planned release date.[10]
Actor Paul Bettany replaced Williams in the role of Dryden Vos.[12] Many elements of Williams' original portrayal of the character, including an unsaid competition between Vos and[9] smuggler[12] Han Solo for the affections of[9] Vos' lieutenant,[12] Qi'ra,[9] remain in the final film. After Solo's release in 2018,[12] Williams congratulated his former cast members on their success and commented on how much he enjoyed working on the project. Williams also expressed interest in possibly working on another Star Wars project in the future.[5] On September 6, 2021, Williams passed away at age 54 in Brooklyn, New York.[2]
Filmography
[
]
Sources
[
]
Notes and references
[
]
↑ 1.0 1.1 Finding Your Roots | Mystery Men. PBS. Archived from the original on September 6, 2021.
↑ 2.0 2.1 2.2 White, Abbey and Barnes, Mike: Michael K. Williams, 'The Wire' Actor, Dies at 54 (2021-09-06). The Hollywood Reporter. Penske Media Corporation. Archived from the original on December 4, 2021.
↑ 3.0 3.1 3.2 3.3 3.4 3.5 Biography. Michael Kenneth Williams. Archived from the original on September 11, 2012.
↑ Malkin, Marc: Michael K. Williams 'proud of work' cut from Solo: A Star Wars Story (2018-09-09). Variety. Penske Media Corporation. Archived from the original on November 30, 2021.
↑ 5.0 5.1 5.2 5.3 Ross, Dalton: Michael K. Williams 'proud of work' cut from Solo: A Star Wars Story (2018-03-06). Entertainment Weekly. Meredith Corporation. Archived from the original on March 23, 2021.
↑ 6.0 6.1 Michael Kenneth Williams Joins Young Han Solo Film on StarWars.com (content now obsolete; backup link)
↑ Han Solo – Smuggler. Scoundrel. Hero. A New Star Wars Story Begins on StarWars.com (content now obsolete; backup link)
↑ 8.0 8.1 A Message From Lucasfilm Regarding the Untitled Han Solo Film on StarWars.com (backup link)
↑ 9.0 9.1 9.2 9.3 9.4 Lussier, Germain: The Mystery of Michael K. Williams' Former Solo Character Has Been Revealed, Thanks to Michael K. Williams (2018-03-07). Gizmodo. G/O Media Inc.. Archived from the original on December 24, 2021.
↑ 10.0 10.1 10.2 Blyth, Antonia: Michael Kenneth Williams' Role Cut From 'Star Wars' Han Solo Movie Amid Reshoots (2017-08-22). Deadline. Archived from the original on June 4, 2020.
↑ Ron Howard to Assume Directorial Duties on the Untitled Han Solo Film on StarWars.com (backup link)
External links
[
]