The Mid-Core was a region of the Core Worlds.
Description
Edit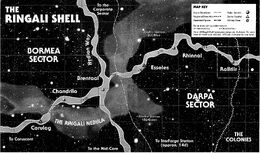 The Mid-Core was an area of space located in the Core Worlds.[1]
The Hydian Way was a major trade route that ran from the Mid-Core out to the Corporate Sector. It intersected the Perlemian Trade Route at the planet Brentaal IV, in the Ringali Shell.[1]
The Ringali Shell was situated between the Mid-Core and the Colonies.[1]
The Nopces system was a minor star system in the Bormea sector,[2] which was located on the Mid-Core edge of the Darpa sector, along the Hydian Way.[3]
The Mid-Core was a major exporter of raw materials. Most worlds in the Core imported their raw materials from the Mid-Core or beyond, as they had long ago depleted their own star systems of such resources.[1]
Between 1 BBY and 1 ABY,[4][5] the Independent Traders' Infonet reported news from an unspecified Mid-Core node.[6]
During the Galactic Civil War, Halbard was a notable shipping magistrate in the Mid-Core.[1]
Appearances
Edit
Notes and references
Edit
Community content is available under
CC-BY-SA
unless otherwise noted.