"Have you tried the blue milk yet?"
―A Milk Stand vendor
The Milk Stand was a quirky merchant stall[2] located on the Outer Rim planet of Batuu. Found along Merchant Row of Black Spire Outpost,[1] the Milk Stand offered thirsty visitors a selection of either green or blue milk, served frozen[2] in either a disposable plastoid cup or an illuminated novelty bottle, the latter decorated with depictions of banthas and thala-sirens.[3] The stand's blue milk was sourced from free-range banthas that were raised locally, a choice that originated from the Milk Stand's desire to support local businesses. The green thala-siren milk, however, had to be imported, as the sirens were not native to Batuu.[3]
The stand's decision to serve their products as frosted confections[2] set it apart from the nearby cantina owned by Oga Garra, who preferred to serve their patrons chilled blue milk.[4] Over time, the refreshing drinks on offer from the Milk Stand became a favorite of the locals who lived at Black Spire Outpost, as well as a treat for visiting travelers.[2]
Behind the scenes
Edit
The Milk Stand was first introduced to Star Wars canon as part of the Star Wars: Galaxy's Edge attraction at Disneyland Park and Disney's Hollywood Studios Park. There, the Milk Stand operates as a real beverage stall, where visitors to the park can purchase a glass of two semi-frozen, plant-based juices they have on offer, each derived from—among other ingredients—a blend of coconut and rice milks.[5] While the park's canonical backstory elements state that the stand's milk was harvested from nearby bantha farms, there are no actual farm-based attractions in the park.[3]
Appearances
Edit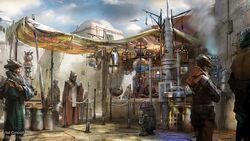 External links
Edit
Notes and references
Edit
↑ 2.0 2.1 2.2 2.3 Milk Stand page at official Disneyland website
↑ 3.0 3.1 3.2 Star Wars: Galaxy's Edge – Milk Stand
↑ Johnson, Zach (February 27, 2018). Everything You Need to Know About Star Wars: Galaxy's Edge. D23. Archived from the original on February 27, 2019. Retrieved on February 28, 2019.
Community content is available under
CC-BY-SA
unless otherwise noted.