Wiki Targeted (Entertainment)
Play Sound
The mission to Aleen was a relief mission conducted by the 104th Battalion and Clone Commander Wolffe.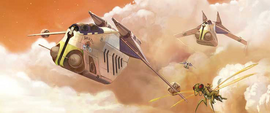 After a series of devastating groundquakes rocked the world of Aleen, Clone Commander Wolffe and 104th Battalion were sent to deliver relief supplies. R2-D2 and C-3PO providing assistance in installing new equipment and translating for the clones. Whilst waiting for the new systems to install, the two droids went to look at an unsealed hatch, but as another groundquake stroke the pair fell down the hatch into the Aleen underworld.[2]
As the two droids wandered through the tunnels they came across a trio of Kindalo who pointed them towards another resident of the underworld, who explained that the unsealed hatch had let in toxic air to the underworld so they had created the quakes. As she left the two droids were shot back to the surface and they sealed the hatch.[2]
↑ 2.00 2.01 2.02 2.03 2.04 2.05 2.06 2.07 2.08 2.09 2.10 2.11 2.12 2.13 2.14 2.15 2.16 2.17 2.18 2.19 2.20 2.21 Star Wars: The Clone Wars – "Mercy Mission"
↑ Star Wars: Rogue One: The Ultimate Visual Guide states that the Onderonian Civil War began 22 years before the Rogue One mission, and that it ended 19 years before the mission. Star Wars: Galactic Atlas dates the Rogue One mission to 0 BBY. Therefore, the Onderonian Civil War began in 22 BBY and ended in 19 BBY.
↑ Star Wars: Galactic Atlas places the Battle of Mon Cala and the skirmish in Theed to 20 BBY. As the episode this event takes place within takes place between the events of the episodes the other events are attached to according to Star Wars: The Clone Wars Chronological Episode Order on StarWars.com (backup link), this event must also take place 20 BBY.
Community content is available under
CC-BY-SA
unless otherwise noted.