"We'll be back on Fett's trail once this job is done, I promise, but Luke needed you for this mission."
Shortly after the Duel on Cloud City, the Rebel Alliance mounted a mission to steal hyperdrive components from the Galactic Empire.
The mission
Edit
Calrissian: "Luke, we've got a rat infestation, of the Imperial kind. It's a trap! They must've been waiting for us."
Skywalker: "I'm on my way. Stay out of trouble until I get there."
Calrissian: "That's easy for you to say..."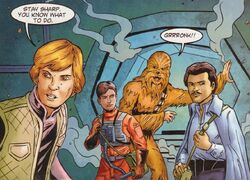 In 3 ABY, an Imperial convoy of drone freighters was en route to the Kuat Drive Yards with a cargo of hyperdrive components. When Rebel spies learned of this convoy, the Alliance mounted a daring mission to intercept one of those freighters.[1]
Appearances
Edit
Notes and references
Edit
Community content is available under
CC-BY-SA
unless otherwise noted.