The Q2 hold-out blaster pistol was a blaster manufactured by Merr-Sonn Munitions, Inc. during the time of the Galactic Republic. It was based on SoroSuub Corporation's ELG line of Diplomat's Blasters, a line that includes the ELG-3A blaster pistol.
Description
Edit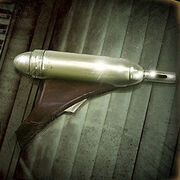 Small enough to be concealed in the hand of a Human, the Q2 hold-out blaster was common among undercover agents and those beings wishing to use a low-profile weapon. Due to its size, many systems declared this blaster pistol illegal, while others had its usage closely regulated. Other star systems tended to view it as a "self-defense" alternative to the other, more powerful personal blaster.
The Q2 was actually taller than it is long, being only 9.6 cm in length and 10.3 cm in height—from the bottom of the handle to the top of the receiver. A specialized power pack was required, and could be purchased from any authorized Merr-Sonn dealer for twenty credits. This supplied enough energy for six shots.[2] Unlike most handheld blaster weapons, the Q2 fired green blaster bolts, similar to the S-5 heavy blaster pistol.
Queen Padmé Amidala and her retinue of handmaidens were trained to proficiency with these weapons. As it was believed that the Queen should have a last line of defense in case of attack, there was a cache of these blasters kept hidden in a secret compartment in the armrest of her throne.[5] When attacked by bounty hunters Chata Hyoki and Robonino, Senator Padmé Amidala unsuccessfully attempted to subdue them with a Q2.[6] It was later used by the smuggler Dash Rendar as a last resort defending holostar Javul Charn from an attack from the Anomid assassin, Edge.[7]
Appearances
Edit
Notes and references
Edit
External links
Edit
Community content is available under
CC-BY-SA
unless otherwise noted.