Jurassic World: Dominion Dominates Fandom Wikis - The Loop
Play Sound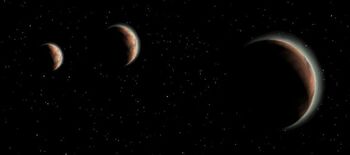 A moon was defined as a naturally occurring object that orbited a celestial body, such as a planet or other body larger than itself. Moons could vary in size, atmospheric conditions, climate, indigenous life, and other such categories. Some moons were barren rocks that existed in the vacuum of space, such as Folor, in orbit around Commenor, while others could be covered in lush, dense jungle, such as the fourth moon of Yavin. The number of moons a planet had could also vary greatly.
In some cases, moons were called worlds[2] if they were developed and/or populated enough. Densely populated Nar Shaddaa, known as the Smugglers' Moon, orbited Nal Hutta and was covered in sprawling cityscape, not unlike the ecumenopolis Coruscant. The sentient world Zonama Sekot was considered a moon for a period of time because it masqueraded as one of 18 moons orbiting the gas giant Mobus. However, its status as a moon could vary due to its mobile nature, amongst other unique traits. Dxun orbited very closely around its parent planet, Onderon, to the point that during certain times of the year, they shared atmosphere, leading some to consider them to be like sister planets.
Some planets, such as Carida, used their moon as a mascot. Carida's Imperial Academy had its emblem carved upon the surface of Carida's moon. However, during Mako Spince's schooling at the academy, Spince used antimatter to attempt to remove the emblem. The moon was destroyed, instead, leading to Spince's expulsion from the academy.[3]
Superweapons, some producing effects similar to the Death Star in the destruction of Alderaan, were sometimes used on moons, but to the same devastating effect. During the start of the Yuuzhan Vong War, Sernpidal, an inhabited world in the Outer Rim, was rendered uninhabitable by the Yuuzhan Vong through the use of a powerful dovin basal pulling the moon Dobido towards and eventually impacting the surface, rendering the planet unsuitable to continue supporting life, in a technique known as Yo'gand's Core. Later in the same war, after the Battle of Coruscant, the Yuuzhan Vong attempted to recreate their lost homeworld of Yuuzhan'tar on Coruscant and used powerful dovin basals to move three of its smaller moons around while the largest was destroyed and the resulting rubble and debris was used to form the Rainbow Bridge.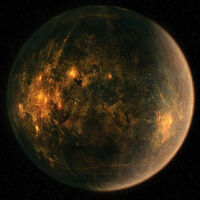 Appearances
[
]
Dawn of the Jedi: Force Storm 1 (In flashback(s))
Dawn of the Jedi: The Prisoner of Bogan 3 (In flashback(s))
Dawn of the Jedi: The Prisoner of Bogan 4 (Mentioned only)
Dawn of the Jedi: Force War 1 (Mentioned only)
Dawn of the Jedi: Force War 3 (In flashback(s))
"Seeing Red" on The Old Republic

'

s official website (article) (backup link) (Mentioned only)
LEGO Star Wars: The Complete Saga (Non-canonical appearance)
Star Wars Episode II: Attack of the Clones junior novel (Mentioned only)
Star Wars: The Clone Wars – "Trespass" (Mentioned only)
Star Wars: The Clone Wars – "Blue Shadow Virus" (In flashback(s))
Star Wars: The Clone Wars – "Brothers" (Mentioned only)
Dark Times—Fire Carrier 3 (In flashback(s))
Dark Times—A Spark Remains 4 (In flashback(s))
Star Wars: Episode IV A New Hope / novel (First appearance) / junior novel
LEGO Star Wars II: The Original Trilogy (Non-canonical appearance)
Star Wars (2013) 9 (Mentioned only)
Star Wars (2013) 12 (Mentioned only)
"Meltdown" – Instant Adventures (Mentioned only)
The Jewel of Yavin (Mentioned only)
"Takeover at Whisper Base"—Star Wars: Age of Rebellion Beginner Game (Mentioned only)
LEGO Star Wars: The Empire Strikes Out (Mentioned only) (Non-canonical appearance)
Star Wars Episode V: The Empire Strikes Back junior novel (Mentioned only)
The Empire Strikes Back: A Storybook (Mentioned only)
"A Brief Visit to Rodia" – Shadows of the Empire Planets Guide (Mentioned only)
"Operation: Recovery" – Shadows of the Empire Planets Guide (Mentioned only)
Star Wars Journal: Hero for Hire (Mentioned only)
Dark Forces: Jedi Knight audio drama (Mentioned only)
Legacy (2006) 1 (Mentioned only)

Non-canon appearances
Sources
[
]
Notes and references
[
]
↑  Yavin 4 in the Databank (content now obsolete; backup link)
External links
[
]