"JUST SAY 'I QUIT' AND THE DROID TRUCK WILL TAKE YOU BACK DOWN THE HILL! BACK TO YOUR MOMMIES AND YOUR NANNY DROIDS!"
―Lieutenant Currahee to a group of Imperial cadets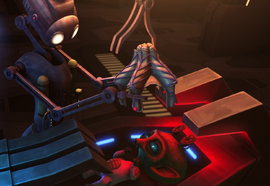 Nanny droids,[1] or Nurse droids,[2] were a model of droids designed to care for the young, though they could also function as nurses.[3][4] They had a multitude of appendages that folded into their body,[1] and two food storage tanks were attached to their upper torso.[5] Movement was facilitated through a wheeled locomotion unit. Auntie Nags was an example of this model.[6] Youth tended to outgrow nanny droids quickly and, for this reason, Ghirra Starros considered them a waste of credits.[7]
IG-series assassin droid IG-11 was reprogrammed and converted into a nanny droid by the Ugnaught Kuiil, initially made to serve as a helping hand before he ultimately served as nurse droid to Grogu.[8]
Community content is available under
CC-BY-SA
unless otherwise noted.