Wiki Targeted (Entertainment)
Play Sound
The Narmle Bog was an expansive bog on the Nabooian moon of Rori. It bordered the Vaydean Marsh, the Lake Octir Swamp, the Madyn Plains, the Narlis Fens, the Narmle Swamp, the Mudflats and the Asworal Everglades.[1] The bog was named after the city of Narmle which location was originally selected for its proximity with the bog. Its founders believed the bog would form a natural protection for the city.[5]
The Narmle Bog first appeared in the 2003 video game Star Wars Galaxies, a massively multiplayer online role-playing game developed by Sony Online Entertainment and published by LucasArts,[1] prior to its closure on December 15, 2011.[6] Its name was revealed in the description of the city of Nashal that was shown to players on the screen that allowed them to choose the starting location for a new character.[5] These description texts were removed when Mos Eisley was made the starting city for all players with the release of the "Publish 25", a.k.a. the "New Game Enhancements", on November 15, 2005.[7]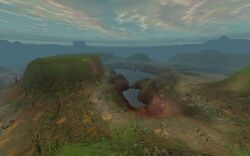 Community content is available under
CC-BY-SA
unless otherwise noted.