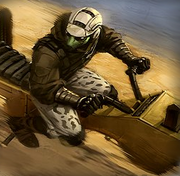 The Nashal River Race was a swoop racing competition that was held annually on the world of Talus, in the Corellian system, during the height of the Galactic Civil War. The race curved along the dry Krisa riverbed, which was located just outside the city of Nashal. According to the race coordinator, a 3PO-series protocol droid, the Nashal River Race was used primarily for recreation and youth races, with very few professional events having been staged for the track. Given that the track primarily stuck to major waterways around Nashal, it impractical to use the track for mounts or foot racing. However, on a hover vehicle, it could be considered a delightful afternoon outing.
Race legs
Edit
The Narrows
Xahn's Crossing
Virrago Bend
Garva's Turn
Quid Embankment
Snaykinn Pass
Kyuu's Twist
The TH Causeway
Lake Thorn
Aximia River
The Overlook
Kima Way
Deep Run
Fed-Dub Stretch
Appearances
Edit
Community content is available under
CC-BY-SA
unless otherwise noted.