"It definitely did come into play how strong and smart a character Carrie Fisher portrayed, because I think that a lot of that is passed on from parent to child. I think George wrote Amidala as a strong, smart character, but it helped to know that I had this great woman before me who had portrayed her character as a fiery woman."
―Natalie Portman
Natalie Portman (born Natalie Hershlag[1] on June 9, 1981[2]) portrayed Padmé Amidala in the prequel trilogy. She adopted "Portman" as her stage name in order to protect her family's identity. It is actually her maternal grandmother's maiden name.[3]
Biography
Edit
Early life
Edit
Portman's father, Avner Hershlag, is an Israeli doctor specializing in fertility and reproduction (reproductive endocrinology). Her mother, Shelley Stevens, is an American homemaker who now works as her agent.
When Portman was three years old, her family moved from Israel to the United States for her father to pursue his medical training. They first went to Washington, D.C. in 1984 and then Connecticut in 1988, before finally settling down in Syosset, New York in 1990.
Portman was a child actress who performed in local troupes and dreamed of dancing on Broadway. One day after dance class at age twelve, Portman was discovered in a pizza parlor by an agent for Revlon, who offered her an opportunity to model.[1] She asked to be introduced to acting talent scouts and quickly got an audition for Luc Besson's 1994 film Léon (a.k.a. The Professional). She soon made her movie debut at the age of twelve playing an orphaned girl who befriends a much older assassin in the intense R-rated film.
During her teen years, Portman played a significant and memorable role in the ensemble cast of Beautiful Girls, and had minor roles in Heat, Everyone Says I Love You and Mars Attacks!. During her junior year in high school, Portman starred in the Broadway revival of The Diary of Anne Frank, performing eight shows a week while attending classes full-time. In 1999, she was nominated for a Golden Globe Award for Best Supporting Actress for her role as Ann August in Anywhere But Here. Portman went on to play a persevering teenage mother in Where the Heart Is. Later she was one of many celebrities who played themselves in the comedy film Zoolander.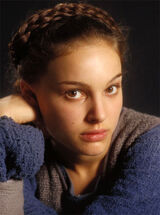 While pursuing her bachelor's degree in psychology at Harvard, Portman appeared in the Star Wars prequel trilogy of movies, which were filmed during her summer break from university. In her interview in the Inside the Actors Studio show, Portman stated that when her agent first told her about the new Star Wars trilogy she didn't know the difference between Star Wars and Star Trek.
Many people think she and Keira Knightley look very much alike, which was the main reason that Keira got the role of Sabé, Queen Amidala's handmaiden and decoy. They looked so much like each other, that during the making of Star Wars: Episode I The Phantom Menace, not even their mothers could tell them apart when they both had make-up.[4]
After graduating from Harvard in 2003, she had a small but pivotal role as a young war widow in the Oscar-winning movie Cold Mountain. That was followed in 2004 by starring roles in the successful independent movies Garden State and Closer, winning a Supporting Actress Golden Globe for her role as Alice in Closer. She was also nominated for the Academy Award for Best Supporting Actress for the same role.
In spring 2004, Portman began pursuing graduate studies at Hebrew University in Jerusalem, Israel in Middle Eastern Studies.[5]
Portman hosted a 2006 episode of Saturday Night Live, in which she bested a "fan" at Star Wars trivia.
In a 2007 interview, she said that although she was pleased with the Star Wars work she had done, she didn't plan to work with the Star Wars universe again.[6]
In 2010, Portman signed on with Christian Dior, and since has appeared in several of the company's advertising campaigns. Her television commercials for the fragrance line Miss Dior were directed by Sofia Coppola who played Saché, one of Amidala's handmaidens in Episode I.[7]
On February 27, 2011, Portman won the Academy Award for Best Actress in Black Swan.[8] For the same role, she also won a Golden Globe Award, a BAFTA Award, a Screen Actors Guild Award and a Critics' Choice Movie Award.
Personal life
Edit
On December 27, 2010, Portman announced her engagement to Benjamin Millepied, the choreographer of the film Black Swan and that they were expecting a child. Early in 2011, it was confirmed that they were having a son. On June 14, 2011, Portman gave birth to their child, Alef (alternate spelling Aleph) Portman-Millepied, weighing 8 lb 7 oz. His first name is the first letter in the Hebrew alphabet.[9] She and Millepied were married on August 4, 2012.[10]
Work in Star WarsEdit
Filmography
Edit
Bibliography
Edit
Notes and references
Edit
↑ 1.0 1.1 Dickerson, James L. Natalie Portman: Queen of Hearts (ECW Press, 2002)
↑ Natalie Portman: How studying psychology helped her in her latest role. The Independent (2006-03-17). Retrieved on May 26, 2013.
↑ Screen Goddess. The New York Times Style Magazine (2007-12-02). Retrieved on May 20, 2013.
↑ Is Natalie Done With 'Star Wars'?. MTV (2007-11-14). Retrieved on May 20, 2013.
↑ Natalie Portman is the New Face of Miss Dior Chérie. Fashionista (2010-12-09). Retrieved on May 20, 2013.
↑ Oscar History: 2011. The Oscars. Retrieved on May 20, 2013.
↑ Natalie Portman's baby name finally revealed three weeks after birth (and you'll never guess what it is!). Daily Mail (2011-07-07). Retrieved on June 10, 2013.
↑ Natalie Portman, Benjamin Millepied Get Married In Private Home Wedding. Hollywood Life (2012-08-05). Retrieved on December 21, 2014.
External links
Edit
Community content is available under
CC-BY-SA
unless otherwise noted.