m (Droid: Restoring DK reference book italicization after further discussion, and fixing new WEG reference book redirects)

Line 57:
Line 57:
 

[[File:Davtokk cuts loose.png|right|200px|thumb|[[Davtokk]] cuts free of a capture net.]]

 

[[File:Davtokk cuts loose.png|right|200px|thumb|[[Davtokk]] cuts free of a capture net.]]

 

*''[[Star Wars Roleplaying Game]]''

 

*''[[Star Wars Roleplaying Game]]''

−

*''[[Galaxy Guide 4: Alien Races (First Edition)|Galaxy Guide 4: Alien Races]]''

+

*''[[Galaxy Guide 4: Alien Races]]''

 

*''[[Star Wars Miniatures: Alliance and Empire|Star Wars Miniatures: Alliance and Empire Expansion]]''

 

*''[[Star Wars Miniatures: Alliance and Empire|Star Wars Miniatures: Alliance and Empire Expansion]]''

 

*''[[Star Wars Roleplaying Game Saga Edition Core Rulebook]]''

 

*''[[Star Wars Roleplaying Game Saga Edition Core Rulebook]]''
---
Revision as of 08:11, 30 December 2014
Nets were any type of meshed or overlapping grid used to ensnare, trap and hold something or someone against its will. Nets were typically used for hunting and fishing in primative cultures and as a means of non-lethal crowd control in more advanced civilizations. As a weapon, the net later evolved into the electroshock net and the razor net. A net could also be shot out of a net gun.
An Ewok net trap was used during the Battle of Endor.
Appearances
Sources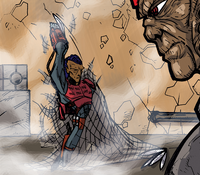 Notes and References
See also
Community content is available under
CC-BY-SA
unless otherwise noted.