Jurassic World: Dominion Dominates Fandom Wikis - The Loop
Play Sound
Nobot[2] was a silver-plated protocol droid with white sensors.[1] In 32 BBY,[3] the droid was walking down a street on the edge of the Mos Espa spaceport on the planet Tatooine when Jedi Master Qui-Gon Jinn arrived in the city with Queen Padmé Amidala and the Gungan Jar Jar Binks. The trio walked past Nobot, who had burns down the right side of its body that scarred its plating and right photoreceptor black.[1]
Behind the scenes
[
]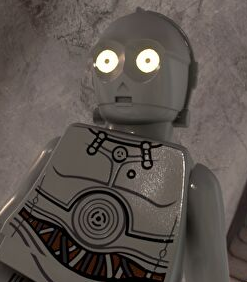 Nobot first appeared in the 1999 prequel trilogy film, Star Wars: Episode I The Phantom Menace.[1] The character's name was first used in the current Star Wars canon in the 2022 video game LEGO Star Wars: The Skywalker Saga,[2] although it originated in the Star Wars Legends continuity, where it was first used by Shaun Flaherty (writing as "Jedi Flaherty") through StarWars.com's Hyperspace feature "What's The Story?"[4]
In The Skywalker Saga, the events of which are non-canon, Nobot appears as the focus of the mission "Ghost Protocol," in which the player discovers the droid in a haunted hovel in Mos Espa, where he is seen running inside with a kyber brick. The droid vanishes after dashing into one of the hovel's rooms, then a key mysteriously drops from the ceiling, where it is used to open the crawlspace. When crawling inside as a Protocol Droid, Nobot appears again in front of you with its legs missing and exits the crawlspace. It is rediscovered one last time with its head disconnected in a sealed room. Doing so completes the quest. If the player revisits the hovel, the door to the sealed room reopens by itself, reveling Nobot vanished. The description for the "Ghost Protocol" quest uses male pronouns for the droid and states that he wandered the streets of Mos Espa aimlessly, with no one knowing why he was there. It also says there are many rumors about the droid, with the only thing known for certain being that something was not right with Nobot.[2]
Appearances
[
]
Non-canon appearances
[
]
Notes and references
[
]
↑ Star Wars: Galactic Atlas dates the events of Star Wars: Episode I The Phantom Menace to 32 BBY.
↑ Protocol Portable on Hyperspace (content removed from StarWars.com; backup link)