OOM pilot battle droids were a type of battle droid that was used by the Trade Federation during the Invasion of Naboo and,[6] later, the Confederacy of Independent Systems during the Clone Wars[7] to pilot different types of vehicles.
Pilot battle droids had blue markings to distinguish them from other battle droids.[6]
Charateristics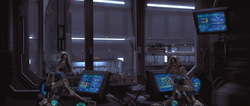 They piloted many vehicles in the Trade Federation and Separatist armadas, such as Armored Assault Tanks, Multi-Troop Transports and other repulsorcraft vehicles, as well as small ships such as the Sheathipede-class transport shuttles and larger capital ships such as Lucrehulk-class LH-3210 cargo freighters, Providence-class dreadnoughts, Munificent-class star frigates and othe capital ships of the Confederate navy.
Appearances
Notes and references
↑ Cite error: Invalid <ref> tag; no text was provided for refs named Databank
↑ Cite error: Invalid <ref> tag; no text was provided for refs named BF_I
↑ Cite error: Invalid <ref> tag; no text was provided for refs named BF_II