OOM pilot battle droids[5] were a type of battle droid that was used by the Trade Federation during the Invasion of Naboo and,[6] later, the Confederacy of Independent Systems during the Clone Wars[7] to pilot different types of vehicles.
Pilot battle droids had blue markings to distinguish them from other battle droids.[6]
Charateristics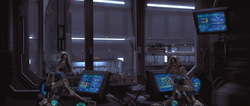 The OOM pilot battle droids had advanced programming to pilot vehicles and vessels. In order to accommodate their piloting and engineering tasks, these droids had advanced specialization programming that allowed them to easily understand the control systems of any vehicle.
They piloted many vehicles in the Trade Federation and Separatist armadas, such as Armored Assault Tanks, Multi-Troop Transports and other repulsorcraft vehicles, as well as small ships such as the Sheathipede-class transport shuttles and larger capital ships such as Lucrehulk-class LH-3210 cargo freighters.
Appearances
Notes and references
↑ 1.0 1.1 1.2 1.3 1.4 1.5  Battle droid in the Databank (content now obsolete; backup link not verified!)
↑ Cite error: Invalid <ref> tag; no text was provided for refs named BF_I
↑ Cite error: Invalid <ref> tag; no text was provided for refs named BF_II
Community content is available under
CC-BY-SA
unless otherwise noted.