The Oba Diah moon was a desert moon that orbited the planet Oba Diah. Prior to the Invasion of Naboo, the Pyke Syndicate shot down Jedi Master Sifo-Dyas's shuttle over the moon. The crash site was rediscovered when the shuttle's distress signal led Jedi Master Plo Koon and the 104th Battalion to the Oba Diah moon during the Clone Wars.
Description
Edit
The Oba Diah moon was a barren desert moon in orbit of the planet Oba Diah.
The Oba Diah moon was controlled by the Pyke Syndicate.[3] Several months before the invasion of the planet Naboo[4] in the year 32 BBY,[5] former Jedi Council member Sifo-Dyas and Supreme Chancellor Finis Valorum's aide Silman's T-6 shuttle was shot down by the Pykes on the orders of a man named Tyranus. Sifo-Dyas was killed in the crash, but Silman survived. The Pykes then left the shuttle, taking Sifo-Dyas's body to Tyranus and Silman as insurance for the future.[2]
Clone Wars
Edit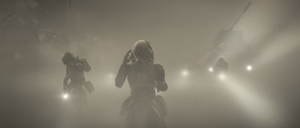 Near the end of the Clone Wars, the Jedi Temple detected a distress signal coming from the moon. Jedi Master Plo Koon, along with Commander Wolffe and the 104th Battalion then discovered the shuttle and found Sifo-Dyas's lightsaber. Koon and his men then took the shuttle back to Coruscant.[2]
Behind the scenes
Edit
The Oba Diah moon first appeared in "The Lost One,"[2] a 2014 episode of the animated series Star Wars: The Clone Wars' sixth and final season.[6]
Appearances
Edit
Notes and references
Edit
Community content is available under
CC-BY-SA
unless otherwise noted.