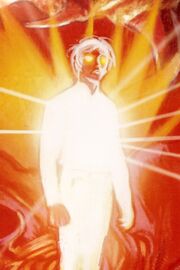 Oneness was the state of union with the Force. While under normal circumstances this could only be achieved after a Force-sensitive or a Non-Force-sensitive had died and passed into the Netherworld of the Force, this was not always the case. In some select circumstances living individuals managed to become an extension of the Force/Becoming One with their respective side. They essentially became nothing more than an extension—a tool—of the Force, and were at a perfect calm state.
Anakin Skywalker and Barriss Offee are the only known Jedi to achieve oneness with the Force more than once.[1][2][3] Skywalker's ability to do so was possibly because he was the Chosen One.
Some Force-sensitives who achieved this include:
Appearances
Edit
Notes and references
Edit
Community content is available under
CC-BY-SA
unless otherwise noted.