Wiki Targeted (Entertainment)
Play Sound
The Order 66 (O66) 'Jedi betrayal'-themed expansion for the Star Wars PocketModel TCG (Trading Card Game) was released on March 5, 2008. This expansion included new ground units and airborne units, such as Republic and Droid Gunships and the AT-OT, and new rules for the use of discard objectives. The expansion consisted of 60 cards and 18 units, making this the beginning of a series of smaller expansions for 2008.
Products for this expansion included a starter set, Elite Assault Theme Deck (EA), which included a fixed 30 card deck focusing on the events surrounding the time that Supreme Chancellor Palpatine issued Order 66, a set of units which included two pre-built Jedi Starfighter PocketModels (MSRP $19.99). Each Order 66 expansion pack (MSRP $4.99) contained 2 styrene cards (4-8 PocketModels), 6 cards, 2 micro dice (black) and a rules sheet.
New gameplay rules and concepts in the Order 66 expansion included:
Discard Objectives
Cards with Jedi-specific targeting abilities
New icons: Elite, Airborne
PocketModel decals
Cards
[
]
Aggressive Reconnaissance
Armored Division
Big Guns
Crack Shot
Elite Detachment
Faithful Ally
Fancy Flying
Flyby
Hover
Security Records
Shot Down
Tactical Deployment
Teamwork
Birth of an Empire
Combat Drop
Escape Tunnel
Hate Leads to Suffering
Imperial Might
Jedi Determination
No Escape
Peacekeepers
Sabotage
Safe Haven
Search and Destroy
Strafing Run
Tailgunner
Unlikely Escape
Urban Warfare
Air Superiority
Captured Jedi Temple
Commander Cody
Units
[
]
01B 76th Regiment AT-RT
01C 91st Recon Corps AT-RT
02B 91st Recon Corps BARC Speeders
02C 442nd Siege Battalion Swamp Speeder
03C Wing 91 Droid Tri-Fighter
04B H33 Division Droid Gunship
05B

Aayla Secura's Jedi Starfighter

05C

Barriss Offee's Jedi Starfighter

05D

Luminara Unduli's Jedi Starfighter

06A

Stass Allie's Jedi Interceptor

06B

Ki-Adi-Mundi's Jedi Interceptor

06D 15th Group Geonosian Fighter
08 21st Nova Corps UT-AT
09 127th Gunship Wing Republic Gunship
10B 91st Recon Corps AT-AP
11B Stass Allie's Jedi Fighter Tank
12A Mace Windu's Jedi interceptor
12C 1st Group Geonosian Fighter
12D 2nd Group Geonosian Fighter
13A 212th Attack Battalion AT-RT
13B 21st Nova Corps AT-RT
13C 41st Elite Corps AT-RT
14 212th Attack Battalion AT-TE
16 212th Attack Battalion Republic Gunship
18A

Ki-Adi-Mundi's Jedi Starfighter

18B

Stass Allie's Jedi Starfighter
In addition to units found in this collection, an additional oversize unit called a Mega Model was available during April, 2009 as a prize for one of the tournaments scheduled during the month. It is a reprint of a unit with the same name from the collection (with the same statistics and markings), but printed on a 1/4" styrene sheet. Though a third taller than a 12 fl. oz. (355 mL) aluminum can, the unit is considered competition legal and may be used in games and tournaments.
127th Gunship Wing Republic Gunship
Elite Assault Theme Deck
[
]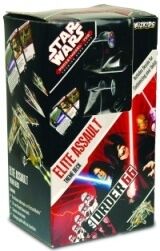 The Elite Assault Theme Deck (EATD) was a starter set from the Order 66 expansion containing a fixed 30 card deck and a fixed set of units, 2 micro dice, and complete rules with strategy guide.
Units
1x 41st Elite Corps BARC Speeder
1x 91st Recon Corps BARC Speeder
1x 442nd Siege Battalion Swamp Speeder
1x Mace Windu's Jedi Interceptor (Pre-built)
1x Aayla Secura's Jedi Interceptor (Pre-built)
1x 1st Group Geonosian Fighter
1x 2nd Group Geonosian Fighter
1x 212th Attack Battalion AT-TE
External links
[
]