"Ortolan secretions are quite distinctive."
―Inspector Thanoth
Ortolans were a sentient species of squat, blue-skinned bipeds with large, floppy ears, beady black eyes, and a trunk-like nose that were native to the cold planet Orto. They consumed large amounts of food in order to develop a warm layer of blubber due to the frigid temperatures of their homeworld.[5] Max Rebo, founder of the Max Rebo Band, was a male Ortolan.[2]
Biology and appearance
[
]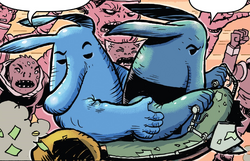 Ortolans were a sentient species of squat, blue-skinned bipeds with trunk-like noses and two beady black eyes.[1] They also possessed small mouths filled with blunted teeth behind their noses[7] and a pair of large, floppy ears,[1] which were sensitive to sound[2] and used to store fat.[3] Ortolans fended off the cold of their icey and snowy habitat by eating their way to a blubbery body.[6] Their articulated digits were able to absorb food and drink as well as play musical instruments.[3] According to Inspector Thanoth, their secretions were "quite distinctive." Ortolans were capable of speaking Galactic Basic Standard[7] and their average lifespan was 71+ years.[4]
Behind the scenes
[
]
In Star Wars canon, Ortolans have been primarily depicted as having two limbs rather than the four limbs seen in most Legends material. In a post on StarWars.com detailing behind the scenes for Star Wars: Resistance "The High Tower", an Ortolan doll matching the Legends depiction is described as, "an Ortolan doll (with extra limbs)".
Appearances
[
]
Non-canon appearances
[
]
Sources
[
]
Notes and references
[
]
External links
[
]