Pacer Agoyo was a human male whose father was a pilot of the New Republic's Phantom Squadron. When the Resistance recruited a number of allies, Agoyo went in his late father's place. While there, he got into a fight with the former Imperial Teza Nasz, claiming she had caused the death of his brother.[1]
Pacer Agoyo first appeared in the 2019 novel Resistance Reborn, written by Rebecca Roanhorse.[1] His surname means "star" in languages spoken by Pueblo Native Americans,[2] an intentional connection according to a statement by Roanhorse on her Twitter account.[3]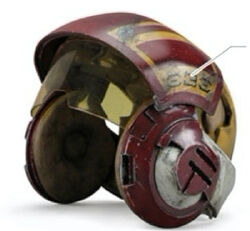 ↑ Lucy Fowler Williams (2014-02-06). Telling Stories of Today: Collecting Native American Material Culture in the 21st Century. Penn Museum. Archived from the original on November 5, 2019. Retrieved on November 5, 2019. "Agoyo meaning "star" and Nava meaning "field" both in the Tewa language."
↑ Rebecca Roanhorse (@RoanhorseBex) on Twitter: "Ok my Native peeps, did y'all meet new character Pacer Agoyo? Is that a Pueblo shoutout in a galaxy far, far away? 😮 And he's a scrapper? #skoden 😋" (backup link)
Community content is available under
CC-BY-SA
unless otherwise noted.