Spider-Man: No Way Home Trailer Dropped - The Loop
Play Sound
Pendretronics was a Corellian engineering company based in Doaba Guerfel during the Galactic Civil War.
History
[
]
"You were warned not to harm any of the Pendretronics employees."
―Captain Baize, to a spacer
Pendretronics was named after its owner, the businessman Kazic Pendre, who was also a member of the criminal organization known as the Chirq Council.[1]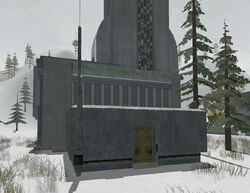 After the Battle of Yavin, an engineer by the name Shobbo Durron designed a power cell that was more efficient and potentially cheaper to manufacture than those on the market.[2] Circa 1 ABY,[3] Kazic Pendre stole Durron's design notes and her schematic for the benefit of his own company. Kazic Durron later hired a spacer to recover her power cell schematic from Pendre. The spacer thus entered the Pendretronics headquarters and sliced Kazic Pendre's data terminal, successfully recovering the data.[2]
Around the same time, the Corellian Security Force started an investigation against the Chirq Council following the increase of ryll traffic on Corellia.[4] Captain Vitala Baize led the investigation and discovered that Kazic Pendre was part of the criminal organization. A spacer working for Captain Baize killed Pendre soon after.[1]
Behind the scenes
[
]
Pendretronics appeared in the 2003 video game Star Wars Galaxies, a massively multiplayer online role-playing game developed by Sony Online Entertainment and published by LucasArts,[1] prior to its closure on December 15, 2011.[5] Pendretronics was added to the game with the update named "Chapter 1: The Corellian Captives", published on June 8, 2006.[6]
Appearances
[
]
Notes and references
[
]
↑ 1.0 1.1 1.2 1.3 1.4 1.5 Star Wars Galaxies: Starter Kit—Legacy Quest: "The Chirq Council: Assumed Identity" on Corellia
↑ 2.0 2.1 Star Wars Galaxies: Starter Kit—Quest: "The Stolen Power Cell Schematic" on Corellia
↑ Star Wars Galaxies: Starter Kit—Legacy Quest: "The Chirq Council: Seek Council" on Corellia
↑  IMPORTANT INFORMATION ABOUT STAR WARS GALAXIES™ on the official Star Wars Galaxies website (content now obsolete; backup link)
↑  Chapter Archive 2006 on the official Star Wars Galaxies website (content now obsolete; backup link)
External links
[
]