The Peragus system was a star system located in the Outer Rim. It contained the planet of Peragus II and the Peragus asteroid field, which during the time of the Jedi Civil War was the location of the Peragus Mining Facility.
Peragus sold fuel to Telos IV during its planetary recovery effort. Peragus II, along with the asteroid field, was destroyed during the First Jedi Purge.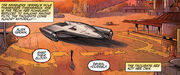 Hundreds of years after the explosive destruction of the Peragus Mining Facility, the Peragus system became a haven for smugglers, and they established a minor fuel depot there. A true-blooded female Sith came there to sell out secrets of the Sith Empire to a smuggler. She was attacked by other smugglers shortly after her business deal, but killed them by Force-choking them all. Along the way, she was plagued by thoughts of her master, the Sith Emperor, who she had somehow betrayed. Apparently, the two had a telepathic link.
Appearances
Edit
Notes and references
Edit
↑ 1.0 1.1 1.2  Star Wars: The Essential Atlas Online Companion on StarWars.com (article) (backup link)
Community content is available under
CC-BY-SA
unless otherwise noted.