Jurassic World: Dominion Dominates Fandom Wikis - The Loop
Play Sound
"My criterion for accepting a role isn't based on what I would like to do. I try to consider what the audience would like to see me do and I thought kids would adore Star Wars."
―Peter Cushing
Peter Wilton Cushing (May 26, 1913 – August 11, 1994) was an English actor best known for his roles in the Hammer Studios horror films of the 1950s, '60s, and '70s,[2] as well as his performance as Grand Moff Wilhuff Tarkin in Star Wars (1977). Spanning over six decades, his acting career included appearances in more than 100 films, as well as many television, stage and radio roles.[3]
He gained the highest amount of visibility in his career in 1977, when he appeared as Grand Moff Tarkin in the first Star Wars film. Director George Lucas wanted a particularly strong actor for the part and Cushing was his first choice, although the actor claimed he was initially approached to play the Jedi Master Obi-Wan Kenobi.
Biography
[
]
Birth
[
]
"As far back as I can ever remember, without really knowing it I wanted to be an actor. I was always dressing up, you know, playing pretend, putting on mothers' hats and things. I'm sure Freud would have something to say about that. It was very much in my blood."
―Peter Cushing
Peter Wilton Cushing was born in Kenley, a district in the English county of Surrey, on May 26, 1913 to George Edward Cushing and Nellie Marie Cushing, nee King. The youngest of two boys—his brother George was three years older.[1]
Star Wars

[

]
"After we started designing the costumes, and I saw what Darth Vader looked like, I felt I really needed a human villain, too, because you can't see Darth Vader's face. I got a little nervous about it, so I wanted somebody really strong, a really good villain — and actually Peter Cushing was my first choice on that."
―George Lucas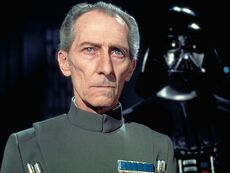 Film director George Lucas approached Cushing with the hopes of casting the actor in his upcoming space fantasy film, Star Wars. Since the film's primary antagonist Darth Vader wore a mask throughout the entire film and his face was never visible, Lucas felt a strong human villain character was necessary. This led Lucas to write the character of Grand Moff Wilhuff Tarkin, a high-ranking Imperial governor and commander of the planet-destroying battlestation, the Death Star. Lucas felt a talented actor was needed to play the role and said Peter Cushing was his first choice for the part.[4] However, Cushing has claimed that Lucas originally approached him to play the Jedi Master Obi-Wan Kenobi, and only decided to cast him as Tarkin instead after the two met each other. Cushing said he would have preferred to play Kenobi rather than Tarkin,[5][6] but could not have done so because he was to be filming other movie roles when Star Wars was shooting, and Tarkin's scenes took less time to film than those of the larger Kenobi role. Although not a particular fan of science fiction, Cushing accepted the part because he believed his audience would love Star Wars and enjoy seeing him in the role.[5]
Cushing joined the cast in May 1976, and his scenes were filmed at Elstree Studios in Borehamwood.[5] Along with Alec Guinness, who was ultimately cast as Kenobi, Cushing was among the most famous actors at the time to appear in Star Wars, as the rest of the cast was still relatively unknown.[7] As a result, Cushing was paid a larger daily salary than most of his fellow cast, earning £2,000[4]—the equivalent of $3,680 in American dollars[8]—per day compared to weekly salaries of $1,000 for Mark Hamill, $850 for Carrie Fisher and $750 for Harrison Ford, who played protagonists Luke Skywalker, Princess Leia Organa and Han Solo, respectively.[4] When Cushing smoked between shots, he wore a white glove so the make-up artists would not have to deal with nicotine stains on his fingers.[6] Like Guinness, Cushing had difficulty with some of the technical jargon in his dialogue, and claimed he did not understand all of the words he was speaking. Nevertheless, he worked hard to master the lines so they would sound natural and that his character would appear intelligent and confident.[9]
Cushing got along well with the entire cast, especially his old Hammer Studios co-star David Prowse (who played Darth Vader) and Fisher, who was appearing in her first major role as Princess Leia Organa.[5][6] The scene in which Tarkin and Organa appear together on the Death Star, just before the destruction of the planet Alderaan, was the first scene with major dialogue that Fisher filmed for Star Wars.[9] Cushing consciously attempted to define their characters as opposite representations of good and evil, and the actor purposely stood in the shadows so the light would shine on Fisher's face. Fisher said she liked Cushing so much that it was difficult to act as though she hated Tarkin,[5] and she had to substitute somebody else in her mind to muster the feelings. Although one of her lines referred to Tarkin's "foul stench," she said the actual actor smelled like "linen and lavender," something Cushing attributed to his tendency to wash and brush his teeth thoroughly before filming because of his self-consciousness about bad breath.[9] Upon learning of that line, Cushing asked Lucas, "Do you want me to look as if I have body odor?"[6]
During the filming of Star Wars, Cushing was provided with a pair of boots far too small to accommodate the actor's size twelve feet. This caused a great deal of pain for him during shooting sessions, but the costume designers did not have enough time to get him another pair. As a result, he asked Lucas to film more close-up shots of him from the waist up and, after the director agreed, Cushing wore slippers during the scenes where his feet were not visible.[10][11][12] Some of the actors who appeared in scenes with Cushing had trouble not laughing because of the shoes.[6] During rehearsals, Lucas originally planned for Tarkin and Vader to use a giant screen filled with computerized architectural representations of hallways to monitor the whereabouts of Skywalker, Solo and Organa. Although the idea was ultimately abandoned before filming began, Cushing and Prowse rehearsed those scenes in a set built by computer animation artist Larry Cuba.[13] The close-up shots of Cushing aboard the Death Star, shown right before the battlestation is destroyed, were actually extra footage taken from previously-shot scenes with Cushing that did not make the final film. During production, Lucas decided to add those shots, along with second unit footage of the Death Star gunners preparing to fire, to add more suspense to the film's space battle scenes.[14]
Mark Hamill did not perform in any scenes with Cushing, but Hamill was a fan of the actor and specifically sought him out to share his admiration and ask for an autograph. Hamill asked questions about Cushing's past acting career, and he asked specifically what it was like working with Laurel and Hardy in A Chump at Oxford.[15] Hamill and Cushing had a lunch together on October 9, 1976.[16] When Star Wars was first released in 1977, most preliminary advertisements touted Cushing's Tarkin as the primary antagonist of the film, not Vader;[17][18] in a 1977 Newsweek article, writer Jack Kroll incorrectly stated that Tarkin was the leader of the Empire, and called Vader his "lieutenant."[18] Cushing was extremely pleased with the final film, and he claimed his only disappointment was that Tarkin was killed and could not appear in the subsequent sequels. The film gave Cushing the highest amount of visibility of his entire career, and helped inspire younger audiences to watch his older films.[10][19]
The Tarkin character was not identified by the first name Wilhuff until the release of the LucasArts screensaver and computer media program Star Wars Screen Entertainment in 1994, the year of Cushing's death.[20] Years later, Cushing's friend and frequent co-star Christopher Lee would also be cast as a Star Wars character, portraying Count Dooku in the prequel trilogy films Attack of the Clones (2002) and Revenge of the Sith (2005). In an interview with the magazine Star Wars Insider, Lee claimed the fact that Cushing had previously appeared in Star Wars made the role that much more special to him.[21] Wilhuff Tarkin appeared briefly in Revenge of the Sith, during a scene near the end of the film as Darth Vader and the Galactic Emperor Palpatine stare at the still under-construction Death Star. Animation director Rob Coleman said the filmmakers considered creating a digital version of Peter Cushing for the scene, and discussed the idea at length with Lee because the two were such close friends.[22] They also considered using unused footage of Cushing from Star Wars and digitally animating Cushing's lips to match new dialogue.[23] However, they ultimately decided to cast actor Wayne Pygram, who was fitted with prosthetic makeup that made him very closely resemble Cushing.[22] Starting in 2011, the Tarkin character also started appearing in the Cartoon Network animated television series Star Wars: The Clone Wars. The character was designed by sculptor Darren Marshall, who based him on Cushing's image. Marshall said he grew up with the Hammer films, and admired the talents and expressive faces of both Cushing and Lee.[24] Stephen Stanton, the voice actor who portrayed Tarkin in the show, said he researched Cushing's performances in the Hammer films, then tried to imitate what Cushing might have sounded like in his mid-thirties and softened it to give a level of humanity to Tarkin.[25] During filming of Star Wars: Episode IX The Rise of Skywalker, Richard E. Grant took inspiration of Cushing's portrayal as Tarkin to play Allegiant General Enric Pryde, his character.[26]
Death
[
]
In August 1994, Cushing entered himself into Pilgrims Hospice in Canterbury, where he died on August 11 at eighty-one years old.[27] In accordance with his wishes, Cushing had a simple funeral with family and friends, although hundreds of fans and well-wishers came to Canterbury to pay their respects. In January 1995, a memorial service was held in The Actor's Church in Covent Garden, with addresses given by Christopher Lee, Kevin Francis, Ron Moody and James Bree.[28]
Filmography
[
]
Sources
[
]
Notes and references
[
]
↑ 1.0 1.1 1.2 1.3 1.4 Cushing, Peter. Peter Cushing: An Autobiography and Past Forgetting (1999). Midnight Marquee. pp. 13—17. ISBN 1887664262.
↑ Meikle, Denis (2008). A History of Horrors: The Rise and Fall of the House of Hammer. Lanham, Maryland: The Scarecrow Press, Inc. p. 46. ISBN 0810863545.
↑ Barker, Dennis and Malcolm, Dennis (August 12, 1994). "Horrormeister Cushing belonged to gentlemanly school of actors". The Gazette: p. D2.
↑ 4.0 4.1 4.2 4.3 Rinzler, J.W. (2007). The Making of Star Wars: The Definitive Story Behind the Original Film. New York City, New York: Del Rey. p. 125. ISBN 0345494768.
↑ Grant, Devin (May 19, 2005). "Charleston fanatics ready to celebrate 'Revenge'". The Post and Courier: p. 24F.
↑ According to OANDA historical exchange rates, the conversion rate from British pounds to the United States dollar as of May 1, 1976, was 1.840. When that number is multiplied by 2,000, the sum is 3,680.
↑ "How Jim fixed it for horror actor Cushing" (May 8, 2004). Nottingham Evening Post: p. 16.
↑ O'Brien, John (April 20, 2002). "Bring on the Clones". The Courier-Mail: p. M01.
↑

Rinzler, p. 180

↑

Rinzler, p. 238

↑

Rinzler, p. 179

↑ Mark Hamill (@HamillHimself) on Twitter: "I was single, living in a 1-room flat in London during the original movie. I'm in street-clothes since I wasn't working, but would come to the studio anyway, to watch them film, hang-out w/ friends & on this day in particular-have lunch w/ 1 of my idols: Peter Cushing! #TrueStory" (backup link)
↑ Vilmur, Peter (September 15, 2009). "The Complete Vader: Author Interviews". StarWars.com Retrieved September 20, 2010.
↑ Majendie, Paul (August 7, 1986). "Master of horror tells his story." Chicago Tribune: p. D9.
↑ 22.0 22.1 Coleman, Rob. (2005) (Audio commentary). Star Wars: Episode III Revenge of the Sith. DVD. 20th Century Fox.
↑ Rinzler, J.W. (2005). The Making of Star Wars Revenge of the Sith. New York City, New York: Del Rey. p. 39. ISBN 0345431383.
↑ Vilmur, Peter (March 3, 2011). "Look Who's Tarkin: Stephen Stanton". StarWars.com Retrieved March 4, 2011.
↑ Richard E. Grant (@RichardEGrant) on Twitter: "Took inspiration from the late, great Peter Cushing in @starwars A NEW HOPE to play Allegiant General Pryde in #RiseofSkywalker" (screenshot)
↑ "Movie star Cushing's stamp of approval" (September 6, 2008). Kent News.
↑

Cushing, p. 218
External links
[
]