Jurassic World: Dominion Dominates Fandom Wikis - The Loop
Play Sound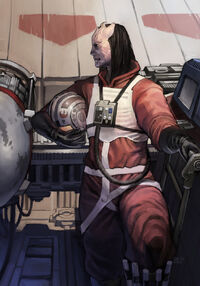 A pilot directly controlled the operation of a vehicle while located within the same craft. A pilot was often assisted by a copilot, navigator, astromech droid, weapons officer, or other crew members. The term "pilot" was applied across vehicles used on land or in water, air, and/or space.
A military designation for a pilot was PL-1. In smaller spacecraft, the word pilot and captain were interchangeable, but on larger vessels, the pilots were rarely the commanders of the vessels. Starship captains, because of their generally piloting small-scale starships, were sometimes referred to informally as "flyboy."
Behind the scenes
[
]
The "Brash Pilot" was one of the original twenty-four character templates used by the Star Wars: The Roleplaying Game, first published in the first edition rulebook.[2]
Appearances
[
]
Non-canon appearances
[
]
Sources
[
]
"Dark Blue" on Wizards.com (original article link, content now obsolete; backup link)
"Kyle Katarn, Jedi Outcast" on Wizards.com (original article link, content now obsolete; backup link)
"Anakin's Living Ship" on Wizards.com (original article link, content now obsolete; backup link)
"Arbra: Sanctuary In the Storm Part 2" on Wizards.com (original article link, content now obsolete; backup link)
"Lorian Nod" on Wizards.com (original article link, content now obsolete; backup link)
"Darth Malak" on Wizards.com (original article link, content now obsolete; backup link)
"Cydon Prax" on Wizards.com (original article link, content now obsolete; backup link)
"Boba Fett (NJO Era)" on Wizards.com (original article link, content now obsolete; backup link)
"Republic Fighter Tank" on Wizards.com (original article link, content now obsolete; backup link)
"Voss Parck" on Wizards.com (original article link, content now obsolete; backup link)
"The Imperial Backbone" on Wizards.com (original article link, content now obsolete; backup link)
"Fringe Benefits" on Wizards.com (original article link, content now obsolete; backup link)
"We Don't Need That Scum" on Wizards.com (original article link, content now obsolete; backup link)
"Soldiers of Fortune" on Wizards.com (original article link, content now obsolete; backup link)
"Universe Preview 8" on Wizards.com (original article link, content now obsolete; backup link)
"Heroes of Revenge of the Sith" on Wizards.com (original article link, content now obsolete; backup link)
"Alliance and Empire Preview 4" on Wizards.com (original article link, content now obsolete; backup link)
"Fringe Stat Pack" on Wizards.com (original article link, content now obsolete; backup link)
"New Republic Stat Pack" on Wizards.com (original article link, backup link not available)
"Message to Spacers 7" on Wizards.com (original article link, content now obsolete; backup link)
"Message to Spacers 8" on Wizards.com (original article link, content now obsolete; backup link)
"Message to Spacers 9" on Wizards.com (original article link, content now obsolete; backup link)
"Message to Spacers 10" on Wizards.com (original article link, content now obsolete; backup link)
 Star Wars: The Card Game – A Dark Time (Card: MTV-7)
Star Wars: Force Collection (Card: Antidar Williams)
Star Wars: Force Collection (Card: Nabrun Leids)
Star Wars: Force Collection (Card: Lak Sivrak)
Star Wars: Force Collection (Card: Ark Roose)
Star Wars: Force Collection (Card: Gasgano)
Star Wars: Force Collection (Card: Dud Bolt)
Star Wars: Force Collection (Card: Ben Quadinaros)
Star Wars: Force Collection (Card: Boles Roor)
Star Wars: Force Collection (Card: Mars Guo)
Star Wars: Force Collection (Card: Mawhonic)
Star Wars: Force Collection (Card: Ratts Tyerell)
Star Wars: Force Collection (Card: Neva Kee)
Star Wars: Force Collection (Card: Captain Antilles)
Star Wars: Force Collection (Card: Sebulba (★★))
Star Wars: Force Collection (Card: AT-AT Pilot)
Anakin Skywalker's Podracer in the Encyclopedia (content now obsolete; backup link)
ARC-170 starfighter in the Encyclopedia (content now obsolete; backup link)
All Terrain Armored Transport in the Encyclopedia (content now obsolete; backup link)
AT-TE walker in the Encyclopedia (content now obsolete; backup link)
B-wing fighter in the Encyclopedia (content now obsolete; backup link)
Biggs Darklighter in the Encyclopedia (content now obsolete; backup link)
Boonta Eve Classic Podracer Pilots in the Encyclopedia (content now obsolete; backup link)
Bossk in the Encyclopedia (content now obsolete; backup link)
Captain Antilles in the Encyclopedia (content now obsolete; backup link)
Chewbacca in the Encyclopedia (content now obsolete; backup link)
clone Z-95 starfighter in the Encyclopedia (content now obsolete; backup link)
Flash speeder in the Encyclopedia (content now obsolete; backup link)
Jedi starfighter in the Encyclopedia (content now obsolete; backup link)
Mos Eisley Cantina in the Encyclopedia (content now obsolete; backup link)
Naboo Royal Starship in the Encyclopedia (content now obsolete; backup link)
Naboo N-1 starfighter in the Encyclopedia (content now obsolete; backup link)
Nien Nunb in the Encyclopedia (content now obsolete; backup link)
Rebel Pilots in the Encyclopedia (content now obsolete; backup link)
Republic attack gunship in the Encyclopedia (content now obsolete; backup link)
Republic police gunship in the Encyclopedia (content now obsolete; backup link)
Sebulba's Podracer in the Encyclopedia (content now obsolete; backup link)
Snowspeeder in the Encyclopedia (content now obsolete; backup link)
TIE fighter in the Encyclopedia (content now obsolete; backup link)
Umbaran hover tank in the Encyclopedia (content now obsolete; backup link)
vulture droid in the Encyclopedia (content now obsolete; backup link)
X-wing starfighter in the Encyclopedia (content now obsolete; backup link)
Y-wing starfighter in the Encyclopedia (content now obsolete; backup link)
Zygerrian slave ship in the Encyclopedia (content now obsolete; backup link)
Star Wars: Armada – Core Set (Card: "Howlrunner") (Picture only)
Star Wars: Armada – Core Set (Card: Luke Skywalker) (Picture only)
Star Wars: X-Wing Second Edition – Galactic Empire Conversion Kit (Card: Alpha Squadron Pilot) (Reissued in TIE/in Interceptor Expansion Pack)
Star Wars: X-Wing Second Edition – Galactic Empire Conversion Kit (Card: Saber Squadron Ace) (Reissued in TIE/in Interceptor Expansion Pack)
Star Wars: X-Wing Second Edition – Scum and Villainy Conversion Kit (Card: Black Sun Soldier) (Reissued in Z-95-AF4 Headhunter Expansion Pack)
External links
[
]
Notes and references
[
]