Cobra Kai Season 4 - The Loop
Play Sound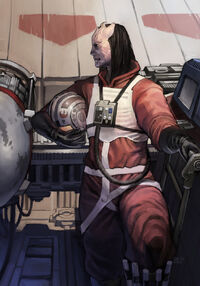 A pilot, sometimes called a flyboy, directly controlled the operation of a vehicle while located within the same craft. A pilot was often assisted by a copilot, navigator, astromech droid, weapons officer, or other crew members. The term "pilot" was applied across vehicles used on land or in water, air, and/or space.
The military designation for a pilot was PL-1. Whether this applied to all pilots, or only starfighter pilots is unknown.
In smaller spacecraft, the word pilot and captain were interchangeable, but on larger vessels, the pilots were rarely the commanders of the vessels.
Starship captains, because of their generally piloting small-scale starships, were sometimes referred to informally as "flyboy."
Appearances
[
]
Non-canon appearances
[
]
Sources
[
]
 "Dark Blue" on Wizards.com (original article link, content now obsolete; backup link)
 "Kyle Katarn, Jedi Outcast" on Wizards.com (original article link, content now obsolete; backup link)
 "Anakin's Living Ship" on Wizards.com (original article link, content now obsolete; backup link)
 "Arbra: Sanctuary In the Storm Part 2" on Wizards.com (original article link, content now obsolete; backup link)
 "Lorian Nod" on Wizards.com (original article link, content now obsolete; backup link)
 "Darth Malak" on Wizards.com (original article link, content now obsolete; backup link)
 "Cydon Prax" on Wizards.com (original article link, content now obsolete; backup link)
 "Boba Fett (NJO Era)" on Wizards.com (original article link, content now obsolete; backup link)
 "Republic Fighter Tank" on Wizards.com (original article link, content now obsolete; backup link)
 "Voss Parck" on Wizards.com (original article link, content now obsolete; backup link)
 "The Imperial Backbone" on Wizards.com (original article link, content now obsolete; backup link)
 "Fringe Benefits" on Wizards.com (original article link, content now obsolete; backup link)
 "We Don't Need That Scum" on Wizards.com (original article link, content now obsolete; backup link)
 "Soldiers of Fortune" on Wizards.com (original article link, content now obsolete; backup link)
 "Universe Preview 8" on Wizards.com (original article link, content now obsolete; backup link)
 "Heroes of Revenge of the Sith" on Wizards.com (original article link, content now obsolete; backup link)
 "Alliance and Empire Preview 4" on Wizards.com (original article link, content now obsolete; backup link)
 "Fringe Stat Pack" on Wizards.com (original article link, content now obsolete; backup link)
 "New Republic Stat Pack" on Wizards.com (original article link, backup link not available)
 "Message to Spacers 7" on Wizards.com (original article link, content now obsolete; backup link)
 "Message to Spacers 8" on Wizards.com (original article link, content now obsolete; backup link)
 "Message to Spacers 9" on Wizards.com (original article link, content now obsolete; backup link)
 "Message to Spacers 10" on Wizards.com (original article link, content now obsolete; backup link)
 Star Wars: The Card Game – A Dark Time (Card: MTV-7)
Star Wars: Force Collection (Card: Antidar Williams)
Star Wars: Force Collection (Card: Nabrun Leids)
Star Wars: Force Collection (Card: Lak Sivrak)
Star Wars: Force Collection (Card: Ark Roose)
Star Wars: Force Collection (Card: Gasgano)
Star Wars: Force Collection (Card: Dud Bolt)
Star Wars: Force Collection (Card: Ben Quadinaros)
Star Wars: Force Collection (Card: Boles Roor)
Star Wars: Force Collection (Card: Mars Guo)
Star Wars: Force Collection (Card: Mawhonic)
Star Wars: Force Collection (Card: Ratts Tyerell)
Star Wars: Force Collection (Card: Neva Kee)
Star Wars: Force Collection (Card: Captain Antilles)
Star Wars: Force Collection (Card: Sebulba (★★))
Star Wars: Force Collection (Card: AT-AT Pilot)
Anakin Skywalker's Podracer in the Encyclopedia (content now obsolete; backup link)
ARC-170 starfighter in the Encyclopedia (content now obsolete; backup link)
All Terrain Armored Transport in the Encyclopedia (content now obsolete; backup link)
AT-TE walker in the Encyclopedia (content now obsolete; backup link)
B-wing fighter in the Encyclopedia (content now obsolete; backup link)
Biggs Darklighter in the Encyclopedia (content now obsolete; backup link)
Boonta Eve Classic Podracer Pilots in the Encyclopedia (content now obsolete; backup link)
Bossk in the Encyclopedia (content now obsolete; backup link)
Captain Antilles in the Encyclopedia (content now obsolete; backup link)
Chewbacca in the Encyclopedia (content now obsolete; backup link)
clone Z-95 starfighter in the Encyclopedia (content now obsolete; backup link)
Flash speeder in the Encyclopedia (content now obsolete; backup link)
Jedi starfighter in the Encyclopedia (content now obsolete; backup link)
Mos Eisley Cantina in the Encyclopedia (content now obsolete; backup link)
Naboo Royal Starship in the Encyclopedia (content now obsolete; backup link)
Naboo N-1 starfighter in the Encyclopedia (content now obsolete; backup link)
Nien Nunb in the Encyclopedia (content now obsolete; backup link)
Rebel Pilots in the Encyclopedia (content now obsolete; backup link)
Republic attack gunship in the Encyclopedia (content now obsolete; backup link)
Republic police gunship in the Encyclopedia (content now obsolete; backup link)
Sebulba's Podracer in the Encyclopedia (content now obsolete; backup link)
Snowspeeder in the Encyclopedia (content now obsolete; backup link)
TIE fighter in the Encyclopedia (content now obsolete; backup link)
Umbaran hover tank in the Encyclopedia (content now obsolete; backup link)
vulture droid in the Encyclopedia (content now obsolete; backup link)
X-wing starfighter in the Encyclopedia (content now obsolete; backup link)
Y-wing starfighter in the Encyclopedia (content now obsolete; backup link)
Zygerrian slave ship in the Encyclopedia (content now obsolete; backup link)
 Star Wars: Armada – Core Set (Card: "Howlrunner") (Picture only)
 Star Wars: Armada – Core Set (Card: Luke Skywalker) (Picture only)
Star Wars: X-Wing Second Edition – Galactic Empire Conversion Kit (Card: Alpha Squadron Pilot) (Reissued in TIE/in Interceptor Expansion Pack)
Star Wars: X-Wing Second Edition – Galactic Empire Conversion Kit (Card: Saber Squadron Ace) (Reissued in TIE/in Interceptor Expansion Pack)
Star Wars: X-Wing Second Edition – Scum and Villainy Conversion Kit (Card: Black Sun Soldier) (Reissued in Z-95-AF4 Headhunter Expansion Pack)
External links
[
]