"Filth, you will pay for your insolence."
"Insolence! We are pirates! We don't even know what that means."
―Darth Maul and Hondo Ohnaka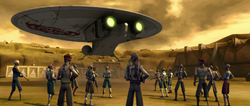 Pirates were individuals who engaged in the criminal activity known as piracy. Such acts included hostage taking,[1] and theft of cargo.[2] Notable pirates include Hondo Ohnaka who had dealings with the highest levels of leadership of both the Galactic Republic and the Confederacy of Independent Systems during the Clone Wars, and those led by Q'anah, who were thwarted by Wilhuff Tarkin during his tenure with the Outland Regions Security Force of Eriadu. Pirates were sometimes associated with bounty hunters.[3]
Appearances
Edit
Star Wars: Forces of Destiny – "Monster Misunderstanding" (Voice only; in intro)
Age of Republic - Count Dooku 1 (Mentioned only)
Star Wars: The Clone Wars – "Bombad Jedi" (Mentioned only)
Star Wars: The Clone Wars – "Dooku Captured" (First appearance)
Star Wars: Forces of Destiny – "Teach You, I Will" (Voice only; in intro)
Star Wars: Forces of Destiny – "The Padawan Path" (Voice only; in intro)
Star Wars: The Clone Wars – "Nightsisters" (Appears in flashback(s))
Star Wars: The Clone Wars – "Padawan Lost" (Mentioned only)
Star Wars: The Clone Wars – "Eminence" (Mentioned only)
Star Wars: Forces of Destiny – "The Imposter Inside" (Voice only; in intro)
Star Wars: Forces of Destiny – "The Starfighter Stunt" (Voice only; in intro)
Star Wars: Forces of Destiny – "Unexpected Company" (Voice only; in intro)
Darth Vader: Dark Lord of the Sith 16: Burning Seas, Part IV (Mentioned only)
Adventures in Wild Space: The Nest (Mentioned only)
Adventures in Wild Space: The Dark (Mentioned only)
Ahsoka (Mentioned only)
"Orientation"—Star Wars Insider 157 (Mentioned only)
Thrawn, Part III (Mentioned only)
Thrawn, Part VI (Mentioned only)
Lost Stars (Mentioned only)
"The End of History"—Star Wars Insider 154 (Mentioned only)
Servants of the Empire: Rebel in the Ranks (Mentioned only)
Servants of the Empire: Imperial Justice (Mentioned only)
Servants of the Empire: The Secret Academy (Mentioned only)
Star Wars: Forces of Destiny – "A Disarming Lesson" (Voice only; in intro)
Star Wars: Forces of Destiny – "Bounty of Trouble" (Voice only; in intro)
Star Wars: Forces of Destiny – "Accidental Allies" (Voice only; in intro)
Star Wars: Forces of Destiny – "Newest Recruit" (Voice only; in intro)
Star Wars: Forces of Destiny – "Crash Course" (Voice only; in intro)
Star Wars: Forces of Destiny – "Hasty Departure" (Voice only; in intro)
Star Wars Rebels – "Imperial Super Commandos" (Mentioned only)
"Divide and Conquer"—Star Wars Animation-Magazine 2 (Mentioned only)
Thrawn: Alliances (Mentioned only)
Star Wars: Forces of Destiny – "Art History" (Voice only; in intro)
Star Wars: Forces of Destiny – "The Stranger" (Voice only; in intro)
Star Wars Rebels – "Crawler Commandeers" (Mentioned only)
Choose Your Destiny: A Han & Chewie Adventure (Mentioned only)
 "Droid Hunters"—Star Wars Adventures Free Comic Book Day 2019 (Appears in flashback(s))
Rogue One: A Star Wars Story novelization (Mentioned only)
Smuggler's Run: A Han Solo & Chewbacca Adventure (Mentioned only)
"One Thousand Levels Down"—Star Wars Insider 151 (Mentioned only)
The Weapon of a Jedi: A Luke Skywalker Adventure (Mentioned only)
Star Wars 1: Skywalker Strikes (Mentioned only)
Star Wars 4: Skywalker Strikes, Part IV (Mentioned only)
Darth Vader 3: Vader, Part III (Mentioned only; in the opening crawl)
Star Wars 8: Showdown on the Smuggler's Moon, Part I (Mentioned only)
Star Wars 11: Showdown on the Smuggler's Moon, Part IV (Mentioned only)
Star Wars Annual 3 (Mentioned only; in the opening crawl)
Doctor Aphra 21: The Catastrophe Con, Part II (Mentioned only)
"Last Call at the Zero Angle"—Star Wars Insider 156 (Mentioned only)
Star Wars 63: The Scourging of Shu-Torun, Part II (Mentioned only)
Battlefront: Twilight Company (Mentioned only)
Star Wars: Forces of Destiny – "Beasts of Echo Base" (Voice only; in intro)
Star Wars: Episode V The Empire Strikes Back (First mentioned)
The Empire Strikes Back: So You Want to Be a Jedi? (Mentioned only)
Star Wars: The Empire Strikes Back junior novelization (Mentioned only)
Star Wars: Forces of Destiny – "The Path Ahead" (Voice only; in intro)
Star Wars: Episode VI Return of the Jedi (Mentioned only)
Star Wars: Return of the Jedi junior novelization (Mentioned only)
Star Wars: Forces of Destiny – "Ewok Escape" (Voice only; in intro)
Star Wars: Forces of Destiny – "An Imperial Feast" (Voice only; in intro)
"The Levers of Power"—The Rise of the Empire (Mentioned only)
Star Wars: Forces of Destiny – "Traps and Tribulations" (Voice only; in intro)
Star Wars: Forces of Destiny – "Chopper and Friends" (Voice only; in intro)
The Legends of Luke Skywalker (Mentioned only)
Bloodline (Mentioned only)
"High Noon on Jakku"—Tales from a Galaxy Far, Far Away: Aliens: Volume I (Mentioned only)
"The Face of Evil"—Tales from a Galaxy Far, Far Away: Aliens: Volume I (Mentioned only)
"The Crimson Corsair and the Lost Treasure of Count Dooku"—Tales from a Galaxy Far, Far Away: Aliens: Volume I
Before the Awakening (Mentioned only)
Poe Dameron 10: The Gathering Storm, Part III (Mentioned only)
Poe Dameron 22: Legend Found, Part III (Mentioned only)
Poe Dameron 23: Legend Found, Part IV (Mentioned only)
Star Wars Resistance – "The High Tower" (Mentioned only)
Star Wars Resistance – "The Platform Classic" (Mentioned only)
Star Wars Resistance – "Secrets and Holograms" (Mentioned only)
Star Wars Resistance – "Sixty Seconds to Destruction" (Mentioned only)
Star Wars Resistance – "The New Trooper" (Mentioned only)
Star Wars: Forces of Destiny – "The Happabore Hazard" (Voice only; in intro)
Star Wars: Forces of Destiny – "Run Rey Run" (Voice only; in intro)
Star Wars Resistance – "The Disappeared" (Mentioned only)
Star Wars: Forces of Destiny – "Sands of Jakku" (Voice only; in intro)
Star Wars: Forces of Destiny – "BB-8 Bandits" (Voice only; in intro)
Star Wars: Forces of Destiny – "Tracker Trouble" (Voice only; in intro)
Star Wars: Forces of Destiny – "Perilous Pursuit" (Voice only; in intro)
Star Wars: Forces of Destiny—Rey (Appears through imagination)
 ""—Star Wars Adventures Ashcan (Appears in flashback(s))
Star Wars: Episode VIII The Last Jedi (Appears in hologram)
Star Wars: The Last Jedi: A Junior Novel (Appears in hologram)
Star Wars: Forces of Destiny – "Porg Problems" (Voice only; in intro)
Star Wars: Forces of Destiny – "Porgs!" (Voice only; in intro)
Star Wars: Forces of Destiny – "Shuttle Shock" (Voice only; in intro)
Poe Dameron 26: The Awakening, Part I (Appears in flashback(s))
 "Flight of the Falcon, Part 3: Home Again"—Star Wars Adventures 16 (Mentioned only)
Non-canon appearances
Edit
Notes and references
Edit