Jurassic World: Dominion Dominates Fandom Wikis - The Loop
Play Sound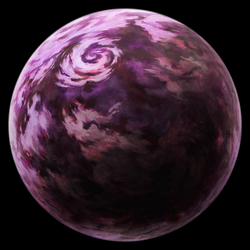 "A planet can be described as a single organism, a living creature with a skeleton of stone and a heart of molten rock. The species that inhabit a planet, plant and animal alike, from microbe to megalossus, are the planet-creature's organs, internal symbionts, and parasites."
―Vergere to Jacen Solo, as an analogy to a Sh'rip Sh'pa
A planet, often called a world, was a celestial body that was in orbit around a star, was neither a binary star nor a moon, and had cleared out the area around its orbit as it formed by causing all other smaller bodies in its orbit to accrete with it. As a consequence, it would not share its orbital region with any other bodies of significant size, except for moons or those collected later under its gravitational influence.
Overview
[
]
Two types of planets existed in the galaxy: gas giants and terrestrial rocky worlds. Moons orbiting gas giants and other rocky worlds were usually not considered planets, even though they could be larger or more populated than other planets. However, Zonama Sekot was considered to be both at different time periods due to its unique mobile nature.
Depending on the tilt of its axis, a planet might have had varied seasons with changing temperatures and weather, affecting its habitability. Planets were extremely varied in terms of environmental conditions and landscape, ranging from completely oceanic, such as Manaan, Dac, and Kamino, to thick arboreal rainforests, such as Kashyyyk and Felucia. Some planets, such as Hoth, were completely frozen, while other planets, such as Nelvaan, were experiencing an ice age. Some planets, like Geonosis, Korriban, and Tatooine, were completely barren and desolate, covered in little more than rock and sand; others, such as Coruscant and Taris, became an ecumenopolis, in which the entire planetary surface was covered by one gigantic city. Many planets, like Dantooine, Naboo, Alderaan, and Corellia, contained a mix of landscapes, with various continents, oceans, and mountains.
Most life-bearing planets had primarily nitrogen- and oxygen-based Type I atmospheres, though some, such as Dorin, Gand, and Skako, had unique atmospheres to which their native life forms had adapted. Gas giants, planets made up of primarily gaseous layers, were rarely inhabited, though they were sometimes used for resource collection (such as the Tibanna gas operations on Bespin).
Some planets had a large collection of space debris orbiting them, referred to as "rings." These rings ranged from being thin to being expansive.
Sentience
[
]
Sentience among planets, while rare, was not unheard of. Yuuzhan'tar, Zonama Sekot and D'vouran were three notable examples of sentient planets.
Appearances
[
]
Timeline 6: Onslaught of the Sith Empire on The Old Republic

'

s official website (article) (backup link)
"Seeing Red" on The Old Republic

'

s official website (article) (backup link) (Mentioned only)
Deader than a Triton Moon on Hyperspace (article) (content removed from StarWars.com; new link on Suvudu; backup link) (Epigraph)
Star Wars: Episode IV A New Hope, novelization, junior novelization, and radio adaptation (First appearance)
Star Wars: Episode V The Empire Strikes Back, novelization, junior novelization, radio adaptation, and video game
"Glory Support" – Shadows of the Empire Sourcebook (Mentioned only)
"A World to Conquer" – Star Wars Adventure Journal 2 (Mentioned only)
The Epic Continues (Canceled)
Crossroads on Hyperspace (article) (content removed from StarWars.com; new link on Suvudu; backup link) (Mentioned only)
Simple Tricks (Mentioned only)
The New Jedi Order: Traitor (Mentioned only)
Non-canon appearances
[
]
Sources
[
]
1996 Topps Star Wars: Shadows of the Empire (Card: Millennium Falcon) (backup link) (Picture only)
1996 Topps Star Wars: Shadows of the Empire (Card: Outrider) (backup link) (Picture only)
1996 Topps Star Wars: Shadows of the Empire (Card: Virago) (backup link) (Picture only)
1996 Topps Star Wars: Shadows of the Empire (Card: Stinger) (backup link) (Picture only)
1996 Topps Star Wars: Shadows of the Empire (Card: Slave I) (backup link) (Picture only)
Star Wars: Shadows of the Empire Embossed Metal Collector Cards (Card: ISSUE 1: Xizor's Plan Revealed) (backup link)
Star Wars: Shadows of the Empire Embossed Metal Collector Cards (Card: ISSUE 2: Rescue Attempt on Gall) (backup link)
Star Wars: Shadows of the Empire Embossed Metal Collector Cards (Card: ISSUE 6: Han Delivered) (backup link)
"Meet Zeev, a Pet Duuvhal" on Wizards.com (original article link, content now obsolete; backup link)
"Quinlan Vos: Jedi Without a Past" on Wizards.com (original article link, content now obsolete; backup link)
"The Raivor" on Wizards.com (original article link, content now obsolete; backup link)
"Ilum: A Frozen World Hides a Jedi's Secret" on Wizards.com (original article link, content now obsolete; backup link)
"Shaggy Slaves: The Gentle Talz" on Wizards.com (original article link, content now obsolete; backup link)
"Rescued Aliens: Swamp Slug and Stone Mite" on Wizards.com (original article link, content now obsolete; backup link)
"Rescued Aliens: The Trompa" on Wizards.com (original article link, content now obsolete; backup link)
Planet Design: Building Worlds on the official Star Wars Galaxies website (content now obsolete; backup link)
"Mood Swings" on Wizards.com (original article link, content now obsolete; backup link)
"Arms & Equipment Guide Extras!" on Wizards.com (original article link, content now obsolete; backup link)
"Raxus Prime" on Wizards.com (original article link, content now obsolete; backup link)
"Vergere, Master of Mystery" on Wizards.com (original article link, content now obsolete; backup link)
"Anakin's Living Ship" on Wizards.com (original article link, content now obsolete; backup link)
"Mountain Nerf" on Wizards.com (original article link, content now obsolete; backup link)
"Ultimate Alien Anthology Web Enhancement" on Wizards.com (original article link, content now obsolete; backup link)
"Republic Fighter Tank" on Wizards.com (original article link, content now obsolete; backup link)
"Voss Parck" on Wizards.com (original article link, content now obsolete; backup link)
"Furry and Fury" on Wizards.com (original article link, content now obsolete; backup link)
"Fringe Benefits" on Wizards.com (original article link, content now obsolete; backup link)
"Alliance and Empire Preview 4" on Wizards.com (original article link, content now obsolete; backup link)
"Saga Edition Web Enhancement: Devaronians" on Wizards.com (original article link, content now obsolete; backup link)
Star Wars Trading Card Game – The Empire Strikes Back (TCG) (Card: Probe Droid) (backup link not verified!)
"Power Beyond Belief" on Wizards.com (original article link, content now obsolete; backup link)
"Planet Hoppers: Phindar" on Wizards.com (original article link, content now obsolete; backup link)
"Planet Hoppers: Cathar" on Wizards.com (original article link, content now obsolete; backup link)
"Planet Hoppers: Skako" on Wizards.com (original article link, content now obsolete; backup link)
Xim Week: The Despotica (Part IV: Evocar) on Hyperspace (article) (content removed from StarWars.com; backup link)
"Message to Spacers 8" on Wizards.com (original article link, content now obsolete; backup link)
"Message to Spacers 9" on Wizards.com (original article link, content now obsolete; backup link)
"Message to Spacers 10" on Wizards.com (original article link, content now obsolete; backup link)
"Arbra: Sanctuary In the Storm Part 2" on Wizards.com (original article link, content now obsolete; backup link)
Star Wars: Force Collection (Card: Antidar Williams)
Star Wars: Force Collection (Card: Muftak)
Star Wars: Force Collection (Card: Garindan)
Star Wars: Force Collection (Card: J'Quille)
Star Wars: Force Collection (Card: Droideka (★★★))
Star Wars: Force Collection (Card: Nexu)
Star Wars: Force Collection (Card: Perosei (★★★))
Star Wars: Force Collection (Card: Zuckuss (★★★★))
Star Wars: Force Collection (Card: Master Yoda (★★★★★))
Slugthrowers: An Overview of Popular Music and Musicians in a Galaxy Far, Far Away, Part 1 on StarWars.com (article) (backup link)
Galactic Architecture 101 and the History of Centerpoint Station on StarWars.com (article) (backup link)
Coruscant air taxi in the Encyclopedia (content now obsolete; backup link)
Death Star in the Encyclopedia (content now obsolete; backup link)
Escape pod in the Encyclopedia (content now obsolete; backup link)
Fire-breather in the Encyclopedia (content now obsolete; backup link)
Nien Nunb in the Encyclopedia (content now obsolete; backup link)
Star Wars™: The Old Republic™ - Fall Roadmap 2017 on The Old Republic

'

s official website (backup link)
Notes and references
[
]
External links
[
]