"Sorry, I was getting ahead of myself. I am Pletus Croix of the Nabooian Historical Archives. When I heard of the discovery of all the ruins here on Mustafar, I just had to see them for myself. You see, there is no mention of them in any of the galactic records. I was studying the glyphs in the ruins north of here and was piecing together the story of Mustafar when the Coyn showed up."
―Pletus Croix, to a spacer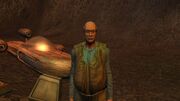 Pletus Croix was a Human male archaeologist who investigated Mustafar's Smoking Forest during the Galactic Civil War.
Behind the scenes
Edit
Pletus Croix was a non-player character in the 2003 video game Star Wars Galaxies: An Empire Divided, a massively multiplayer online-role playing game developed by Sony Online Entertainment and published by LucasArts. The game was shut down on December 15, 2011.
Appearances
Edit
Community content is available under
CC-BY-SA
unless otherwise noted.