Ploovo's Protocol Team was a criminal group that worked for crime lord Ploovo Two-For-One.
The Protocol Team was a five-person group that specialized in obtaining money owed to Ploovo. Due to Ploovo's loan-shark activities, often multiple people were behind in their payments; in those cases, Ploovo sent the Protocol Team to collect the delinquent payments.
The Protocol Team used violence and the threat of violence to obtain the money. For unclear reasons, the Protocol Team was considered a threat by the Rebel Alliance.
The team was an efficient mix of aliens and droids. The members were: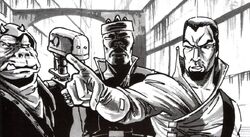 Community content is available under
CC-BY-SA
unless otherwise noted.