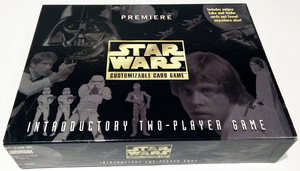 The Premiere Introductory Two-Player Set was a product that was made for the Star Wars Customizable Card Game, a card game based on the Star Wars universe. This set focused mainly on the events that occurred during Star Wars: Episode IV A New Hope. The two-player game was designed by Decipher and distributed by Parker Brothers.
The game was sold in a box and included two 60 card decks and six premium cards, including an alternative persona of both Luke Skywalker and Darth Vader, that are not found in any other expansion set. The box also included a rule booklet and one Premiere Unlimited expansion pack (although a Limited expansion pack was included in the first 50,000 games produced). This set was the first in a series of Star Wars CCG two-player games, the second being the Empire Strikes Back Introductory Two-Player Game. This set was released in February of 1996.
Community content is available under
CC-BY-SA
unless otherwise noted.