Jurassic World: Dominion Dominates Fandom Wikis - The Loop
Play Sound
Prince was a noble title. The feminine equivalent title was Princess. It was used to indicate the heir of a monarch, such as Prince Isolder, Princess Syayna or Princess Leia Organa; the heir of a chieftain, such as Princess Kneesaa a Jari Kintaka; or a noble of great power and wealth, such as Prince Xizor. A Prince could rule independently or mediatise to a greater lord. It was also the title of the nobility for members of the Hapes Consortium, such as Prince Isolder.[2]
There were also titles such as Princess of Theed, which was an electoral position, held by numerous persons, including the future Monarch of Naboo (the world of Theed), Padmé Amidala. However, this title did not mean that Padmé's parents were the King and Queen; it was a title which later gave her an advantage in the monarch elections of 32 BBY.[3]
In the case of the Fel Empire, the heir of Emperor Roan Fel was his daughter, Princess Marasiah Fel.[4]
The Crown Prince of Tof was the heir to the throne of the Tof species. In 4 ABY, the Crown Prince was Sereno.[5]
Hapuntep was a planet ruled by a noble who held the title of "Crown Prince."[6]
Princes
[
]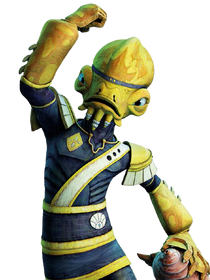 Princesses
[
]
Appearances
[
]
Non-canon appearances
[
]
Sources
[
]
Star Wars Blueprints (Picture only)
"Smugglers of the Outer Rim" – Star Wars Adventure Journal 5 (As "princess")
Star Wars: The Power of the Force (1995) (Pack: Princess Leia Organa (All-New Likeness)) (backup link)
Star Wars: Shadows of the Empire Embossed Metal Collector Cards (Card: ISSUE 4: Leia Meets Xizor) (backup link)
Star Wars: Shadows of the Empire Embossed Metal Collector Cards (Card: ISSUE 5: The Trap is Set) (backup link)
Star Wars: Shadows of the Empire Embossed Metal Collector Cards (Card: ISSUE 6: Han Delivered) (backup link)
Introductory Adventure Game (as Princess)
"Special Ops: Drop Points" – Star Wars Adventure Journal 14 (as Princess) ("Lady Maglenna Pendower" capsule)
Platt's Smugglers Guide (as princess)
"Special Military Unit Intelligence Update" – Star Wars Adventure Journal 15 (as Princess)
The Official Star Wars Fact File 9 (COR8, Coruscant – Imperial City)
"Arbra: Sanctuary In the Storm Part 2" on Wizards.com (original article link, content now obsolete; backup link)
"Aargau: For All Your Banking Needs" on Wizards.com (original article link, content now obsolete; backup link)
"Boba Fett (NJO Era)" on Wizards.com (original article link, content now obsolete; backup link)
"Hapes: Ladies First" on Wizards.com (original article link, content now obsolete; backup link)
2012 Topps Star Wars Galactic Files Series 1 (Card: Princess Leia Organa (Alderaan Senator))
2012 Topps Star Wars Galactic Files Series 1 (Card: Princess Leia Organa (Yavin Celebration))
2012 Topps Star Wars Galactic Files Series 1 (Card: Princess Leia Organa (Rebel Leader (TESB)))
2012 Topps Star Wars Galactic Files Series 1 (Card: Princess Leia Organa (Despair on Hoth))
2012 Topps Star Wars Galactic Files Series 1 (Card: Princess Leia Organa (Rebel Leader (ROTJ)))
2012 Topps Star Wars Galactic Files Series 1 (Card: Prince Xizor (Black Sun Leader))
2013 Topps Star Wars Galactic Files Series 2 (Card: Princess Leia Organa (Falcon Escape))
2013 Topps Star Wars Galactic Files Series 2 (Card: Princess Leia Organa (Imperial Prisoner))
2013 Topps Star Wars Galactic Files Series 2 (Card: Princess Leia Organa (Bespin Gown))
2013 Topps Star Wars Galactic Files Series 2 (Card: Princess Leia Organa (Rebel General))
2013 Topps Star Wars Galactic Files Series 2 (Card: Princess Leia Organa (Y-Wing Pilot))
Star Wars: Force Collection (Card: Leia Organa (★))
Star Wars: Force Collection (Card: Lieutenant Sheckil)
Star Wars: Force Collection (Card: Boushh (★★))
Star Wars: Force Collection (Card: Cariso Smadis)
Star Wars: Force Collection (Card: Han Solo (★★★))
Star Wars: Force Collection (Card: Leia Organa (★★★, Tantive IV))
Star Wars: Force Collection (Card: Leia Organa (★★★, Death Star))
Star Wars: Force Collection (Card: Luke Skywalker (★★★, Death Star))
Star Wars: Force Collection (Card: Stormtrooper (★★★, Death Star))
Star Wars: Force Collection (Card: Boushh (★★★★))
Star Wars: Force Collection (Card: Wicket W Warrick)
Prince Lee-Char in the Encyclopedia (content now obsolete; backup link)
Bail Organa in the Encyclopedia (content now obsolete; backup link)
Princess Leia Organa in the Encyclopedia (content now obsolete; backup link)
Rebel Alliance in the Encyclopedia (content now obsolete; backup link)
 Star Wars: The Card Game – Between the Shadows (Card: Masterful Manipulation) (Picture only)
 Star Wars: The Card Game – Between the Shadows (Card: Prince Xizor)
 Star Wars: The Card Game – Between the Shadows (Card: The Prince Scheme)
 Star Wars: The Card Game – Between the Shadows (Card: Virago)
Strike fear on the Battlefield with the Dread Warlord Cartel Pack on The Old Republic

'

s official website (backup link)
Notes and references
[
]
External links
[
]