Jurassic World: Dominion Dominates Fandom Wikis - The Loop
Play Sound
"An Imperial probe droid."
"It's a good bet the Empire knows we're here."
―Princess Leia Organa and Han Solo
A probe droid, also known as a recon droid, probot, or Sensor Droid, was a type of droid that could be used for deep space exploration and reconnaissance. They were tenacious hunters and searchers and used manipulator arms to perform various tasks. Notable models included the DRK-1 Dark Eye probe droid and the Viper probe droid. They could be equipped with both shields and blasters.
History
[
]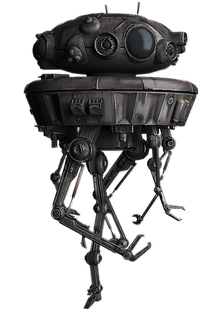 The Sith Lord Darth Maul employed three DRK-1 Dark Eye probe droids to search for the Jedi Qui-Gon Jinn and Obi-Wan Kenobi on the planet Tatooine.[2]
The Grysk operative Jixtus dispatched several probes to the planet Rapacc to locate The Magys.[3]
To locate the Rebel Alliance's secret base after they evacuated from Yavin 4, the Galactic Empire began Project Swarm, which saw probes sent out to find the hidden base.[4] Eventually, XJ9-CS14, a Viper model having arrived on the planet Hoth from its carrier, began to transmit a live feed of what appeared to be a power generator to the Empire, leading to an attack on Echo Base a short time later. The droid, however, was spotted by Han Solo prior to the invasion, warning the Alliance and giving them some time to prepare the evacuation.[1]
Appearances
[
]
The High Republic: Into the Dark (Mentioned only)
The High Republic: Into the Dark audiobook (Mentioned only)
Star Wars: The Clone Wars – "Innocents of Ryloth" (First identified as recon droid)
"Bane's Story"—The Clone Wars: Stories of Light and Dark (Indirect mention only)
Darth Maul—Son of Dathomir 3 (Mentioned only)
Adventures in Wild Space: The Snare (Parts only)
"Trouble Again"—Star Wars Adventures (2017) 9 (Mentioned only)
Lost Stars (Mentioned only)
Lost Stars audiobook (Mentioned only)
Obi-Wan Kenobi – "Part VI" (Mentioned only)
Servants of the Empire: The Secret Academy (Mentioned only)
"Assessment"—Star Wars Rebels Magazine 11 (Mentioned only)
Star Wars Rebels – "Relics of the Old Republic" (Mentioned only)
Star Wars Rebels – "Always Two There Are" (Mentioned only)
Leia, Princess of Alderaan (Mentioned only)
Leia, Princess of Alderaan audiobook (Mentioned only)
"Fifth and Final"—Star Wars Rebels Magazine (Wreckage only)
"Droid Hunters"—Star Wars Adventures Free Comic Book Day 2019 (As a monster droid)
"Change of Heart"—From a Certain Point of View (Mentioned only)
Star Wars (2015) 8 (Mentioned only)
Darth Vader (2015) 8 (First identified as probot)
Star Wars (2015) 53 (Mentioned only)
Doctor Aphra (2016) 40 (Mentioned only)
Star Wars (2015) 70 (Mentioned only; in the opening crawl)
Star Wars (2015) 71 (Indirect mention only)
Battlefront: Twilight Company (Mentioned only)
Battlefront: Twilight Company audiobook (Mentioned only)
Star Wars: Episode V The Empire Strikes Back (First appearance)
The Empire Strikes Back: So You Want to Be a Jedi? (Mentioned only)
"Eyes of the Empire"—From a Certain Point of View: The Empire Strikes Back (Appears on screen)
"The Final Order"—From a Certain Point of View: The Empire Strikes Back (Mentioned only)
Star Wars (2020) 7 (In flashback(s))
"Masters"—Stories of Jedi and Sith (Mentioned only)
Alphabet Squadron (Mentioned only)
Alphabet Squadron audiobook (Mentioned only)
Star Wars: Squadrons (as toy) (DLC)
Star Wars Adventures: Ghosts of Vader's Castle 1 (As a monster droid)
Star Wars Adventures: Ghosts of Vader's Castle 2 (As a monster droid)
Star Wars Adventures: Ghosts of Vader's Castle 3 (As a monster droid) (In dream)
Star Wars Adventures: Ghosts of Vader's Castle 4 (As a monster droid) (In dream)
Star Wars Adventures: Ghosts of Vader's Castle 5 (As a monster droid)
Victory's Price (Mentioned only)
Victory's Price audiobook (Mentioned only)
The Book of Boba Fett – "Chapter 5: Return of the Mandalorian" (In flashback(s))
"All Creatures Great and Small"—Tales from a Galaxy Far, Far Away: Aliens: Volume I (Mentioned only)
Star Wars: The Force Awakens: A Junior Novel (Mentioned only) (First identified as probot)
Star Wars: The Force Awakens: A Junior Novel audiobook (Mentioned only) (First identified as probot)
Chewie and the Porgs (Mentioned only)
Star Wars Resistance – "The New World" (Mentioned only)
Galaxy's Edge: Black Spire (Mentioned only)
Galaxy's Edge: Black Spire audiobook (Mentioned only)
"The Droid with a Heart"—Myths & Fables (Mentioned only) (In flashback(s))
"Tales from Wild Space: Stop, Thief!"—Star Wars Adventures (2017) 1 (As a monster droid)
"Tales from Wild Space: The Flat Mountain of Yavin"—Star Wars Adventures (2017) 2 (As a monster droid)
"Tales from Wild Space: Adventures in Wookiee-Sitting"—Star Wars Adventures (2017) 3 (As a monster droid)
"Tales from Wild Space: Mattis Makes a Stand"—Star Wars Adventures (2017) 4 (As a monster droid)
"Tales from Wild Space: The Best Pet"—Star Wars Adventures (2017) 5 (As a monster droid)
"Tales from Wild Space: Podracer's Rescue"—Star Wars Adventures (2017) 6 (As a monster droid)
"Tales from Wild Space: Look Before You Leap"—Star Wars Adventures (2017) 7 (As a monster droid)
"Tales from Wild Space: Gonk!"—Star Wars Adventures (2017) 8 (As a monster droid)
"Tales from Wild Space: IG-88 vs. the Gatto Gang"—Star Wars Adventures (2017) 9 (As a monster droid)
"Tales from Wild Space: Family Affair, Part 1"—Star Wars Adventures (2017) 10 (As a monster droid)
"Tales from Wild Space: Family Affair, Part 2"—Star Wars Adventures (2017) 11 (As a monster droid)
"Tales from Wild Space: A Small Push"—Star Wars Adventures (2017) 12 (As a monster droid)
"Tales from Wild Space: The Blue Brothers"—Star Wars Adventures (2017) 13 (As a monster droid)
"Tales from Wild Space: The Big March"—Star Wars Adventures (2017) 19 (As a monster droid)
"Tales from Wild Space: The Journey"—Star Wars Adventures (2017) 20 (As a monster droid)
"Tales from Wild Space: The Heist"—Star Wars Adventures (2017) 21 (As a monster droid)
"Tales from Wild Space: A Tauntaun Tail"—Star Wars Adventures (2017) 22 (As a monster droid)
"Tales from Wild Space: Majordomo, Major Problems"—Star Wars Adventures (2017) 23 (As a monster droid)
"Tales from Wild Space: Win/Lose"—Star Wars Adventures (2017) 24 (As a monster droid)
"Tales from Wild Space: Alone in the Dark"—Star Wars Adventures (2017) 26 (As a monster droid)
"The Lost Stories, Part 1"—Star Wars Adventures (2017) 30 (As a monster droid)
"The Lost Stories, Part 2"—Star Wars Adventures (2017) 31 (As a monster droid)
"The Lost Stories, Part 3"—Star Wars Adventures (2017) 32 (As a monster droid)
Star Wars: The Rise of Skywalker: Expanded Edition (Mentioned only)
Star Wars: The Rise of Skywalker: Expanded Edition audiobook (Mentioned only)
"The Whills Strike Back"—From a Certain Point of View: The Empire Strikes Back (Mentioned only)
Non-canon appearances
[
]
Sources
[
]
Notes and references
[
]