Boba Fett Returns - The Loop
Play Sound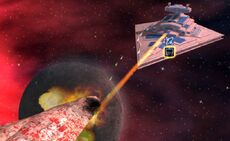 Proton beam cannons were powerful energy weapons used most prominently by the Galactic Empire. They were able to deal massive amount of damage to hulls.
History
[
]
The most famous of these were the planetary proton beam cannons used to make up superlasers such as the ones found on the first and second Death Stars.[1] These could completely obliterate a target world.[2]
There also existed smaller composite beam superlasers that were capable of making a planet uninhabitable by destroying its core.[1] An anti-capital ship proton beam cannon was also constructed on the surface of Dubrillion during the height of the Galactic Civil War.[3] Capital ship-scaled cannons were a feature of both the Eclipse-class and Sovereign-class Super Star Destroyer models. These guns could sear entire continents in a moment, but not pulverize an entire planet.[4]
At the Empire's height, a much smaller proton beam cannon was mounted on the modified Imperial-class Star Destroyer, the Accuser.[5] Decades later, Booster Terrik had his private Star Destroyer Errant Venture fitted with a similar weapon said to be based on the Darksaber project.[6] A fighter-scale proton beam cannon was fitted to the Lancet Aerial Artillery vehicles used by the Empire.[7]
Appearances
[
]
Sources
[
]
The Technical Book of Science Fiction Films
Notes and references
[
]