A cave located on the planet Corellia was used as the base of operation of the cave-dwellers during the Galactic Civil War.
"Listen, they know that they are in trouble. A transmission just came from there threatening to kill their hostages. Do whatever you must to save them. I'll transfer all the information that I have to you."
―Commander Talte, to a spacer
By the time of the Battle of Yavin, the cave was inhabited by the cave-dwellers,[1] a Corellian group of anti-government criminals led by Raynod Menar.[2]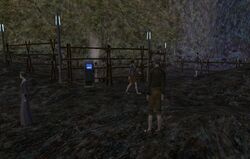 Circa 1 ABY,[3] psychotic cave-dwellers captured two groups of hikers in the Thaos Mountains.[1] Ilyamo and other hikers were kept as hostages in the cave.[4] Commander Talte of the Corellian Security Force therefore hired a spacer to investigate the disappearances of the hikers.[5] The spacer fought several cave-dwellers at the spot where the second group disappeared. From a communicator found on a body, the spacer managed to triangulate a signal to the cave.[1] The CorSec finally assaulted the cave and freed the hostages.[2]
Community content is available under
CC-BY-SA
unless otherwise noted.