Doctor Strange in The Multiverse o Madness - The Loop
Play Sound
"It's on a small island east of Kaadara. Follow the beach to the east and you shouldn't have any trouble finding it. Take out as many of them as you can. Then find their leader, Jonni Skaak, and take him down as well. If you succeed, they won't be planning an attack on Kaadara again any time soon."
The Raid on Skaak Tipper island was a battle between the Royal Naboo Security Forces and the forces of Skaak Tippers. Information acquired by the Royal Security Forces following their confiscation of Skaak Tipper weapons crates allowed Colonel Quarsh Panaka to conduct a full scale raid on the Skaak Tippers's base which was situated on an island just off the coast of Kaadara.
Prelude
[
]
"They plan to hack into them and gain access to the bank accounts of everyone in Kaadara. Not that I believe they could actually pull it off, but we cannot let them get that far. I'm sending you to assault their hideout."
―Colonel Panaka, to a spacer
The objective was to stop the Skaak Tippers from stealing all bank terminals in Kaadara and hacking into all of them, ripping the contents of all the bank accounts.[6]
The raid
[
]
"We must take the fight to the Skaak Tippers. And by we, I mean you. Go to their hideout and put a serious dent in their membership. And when that's done, take out their leader, Jonni Skaak."
―Colonel Panaka, to a spacer
Panaka dispatched the same RSF agents who were involved in the confiscation operation to the Skaak Tippers' island, where they engaged the raid. Panaka commanded them to thin the Skaak Tipper numbers, and the RSF agents managed to kill at least 16 Skaak Tippers. Among the Skaak Tipper losses was the local Skaak Tipper leader, a former RSF officer by the name of Jonni Skaak.[6]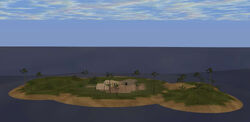 Aftermath
[
]
"Good work! I knew you'd be a great fit for the RSF. I've always had an eye for your kind of talent."
―Colonel Panaka, to a spacer
The mission was a success, and the Skaak Tippers' bold plan failed. Panaka recommended the RSF agents and awarded them with special RSF jackets.[6] After this the RSF agents were placed under the command of Colonel Typho.[8]
Appearances
[
]
Sources
[
]
Notes and references
[
]
External links
[
]