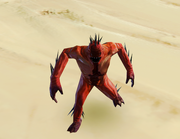 Raklings were a small bipedal species similar to rakghouls.
Raklings could be created when mutated by the rakghoul plague. They could also be kept as pets.
Behind the scenes
Edit
Raklings are available as a mini pet in the MMORPG Star Wars: The Old Republic.
Appearances
Edit
Community content is available under
CC-BY-SA
unless otherwise noted.