"There will be more innocent blood on your hands, Kenobi! Unless you come. Face me. Come alone. If you do not, this world will burn!"
―Darth Maul to Obi-Wan Kenobi in a hologram
Raydonia was a planet in the Outer Rim Territories. The Human colonists who lived there were known as Raydonians.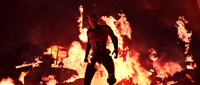 Raydonia was similar to Felucia in size, color (blue-green), and being completely covered with flora and fauna and overgrown with life. Its sky was filled with crimson clouds, similar to Dathomir's sky.
Some time around 20 BBY, there was a skirmish above the planet. Sith Lord Darth Maul and his brother Savage Opress fought against Obi-Wan Kenobi and Asajj Ventress, aboard a Turtle Tanker.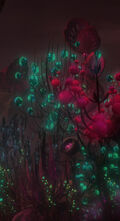 ↑ 1.0 1.1 1.2 1.3  Raydonia in the Encyclopedia (content now obsolete; backup link)
↑ 2.0 2.1 2.2 2.3  Star Wars: The Essential Atlas Online Companion on StarWars.com (article) (backup link)
Community content is available under
CC-BY-SA
unless otherwise noted.