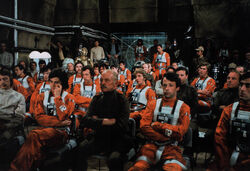 Rebel pilots flew starfighters, light freighters, and atmospheric repulsorlift vehicles for the Alliance Starfighter Corps of the Alliance to Restore the Republic during the Galactic Civil War. Like the rest of the Alliance Military (and unlike the Imperial Navy), they came from a wide variety of species, planets, and backgrounds. Some were defectors trained at one of the Imperial Academies, while others were former scouts, smugglers, pirates, or independent traders, or bush pilots from the Outer Rim.
Rebel pilots had a reputation for bravery, since they were almost always outnumbered when they went into battle. They also had a reputation for skill and success, after such Rebel victories as the Battle of Yavin and the Battle of Endor.
Rebel pilots wore orange, green, or beige flight suits. The flight suits had a winter vest such as the ones worn on Hoth. They wore a flak vest with a life support box on top. They also wore the famous helmet which included an orange visor with a special computer projection for targeting.
Famous Rebel pilots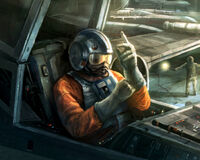 Famous Rebel flight squadrons
Vehicles
Starfighters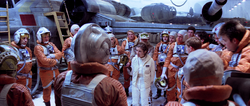 Airspeeders
Rebel pilot Helmets
Helmet symbols
Behind the scenes
The helmets worn by Alliance X-wing pilots were made from modified plastic copies of real US Navy APH-6B flight helmets.[1]
Appearances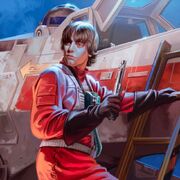 Non-canonical appearances
Sources
See also
Notes and references
↑ Star Wars Magazine UK 68