Rebellion 15: Vector, Part 7 is the fifteenth issue in the Star Wars: Rebellion series of comics. It is also the first issue of Rebellion to feature the Star Wars: Vector cross-over arc and the seventh issue in the over-all Vector story arc.
The biggest Star Wars event of 2008 has reached the Rebellion era. Now, Luke Skywalker, Princess Leia, Han Solo, and Chewie will have to deal with "Vector" as it crosses their paths and changes the galaxy!
It has been twenty years since Darth Vader's encounter with the power of the Muur Talisman. As the power of the Rebellion grows, Vader's thoughts turn to the ancient Sith relic: though he was unable to harness its power, might it be used as a weapon against the enemies of the Empire?
By type
Characters
Creatures
Events
Locations
Organizations and titles
Sentient species
Vehicles and vessels
Weapons and technology
Miscellanea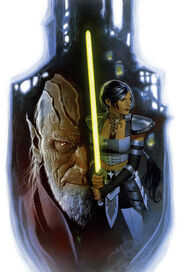 Community content is available under
CC-BY-SA
unless otherwise noted.