Rebellion 3: My Brother, My Enemy, Part 3 is the third issue in the Star Wars: Rebellion series of comics.
The Empire has infiltrated the command ship of the Rebel fleet with a sleeper agent—and he's just woken up! Now, the lives of everyone onboard are in jeopardy, along with the entire Alliance cause. Too bad the young hero Luke Skywalker is nowhere to be found. Having received a coded message from Imperial officer Janek "Tank" Sunber, Luke's hijacked a shuttle against orders, determined to find his old friend—even if it means delivering himself straight into an Imperial trap!
By type
Characters
Droid models
Events
Locations
Organizations and titles
Sentient species
Vehicles and vessels
Weapons and technology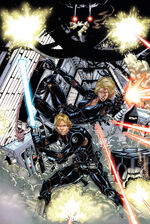 Community content is available under
CC-BY-SA
unless otherwise noted.