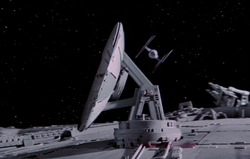 "Those rectennas are expensive!"
A rectenna was a large dish-shaped sensor and communication array installed on a starship. Rectennas were commonly installed on Lucrehulk-class Droid Control Ships, which featured primary, auxiliary and backup rectenna[1] and YT-1300 light freighters such as Millennium Falcon, which possessed an ANq-51 sensor array computer and rectenna made by the Fabritech corporation that included both active and passive sensors, powerful jammers, intership transmitters, and short-range target acquisition systems. The Falcon's rectenna snapped off during the Battle of Endor due to the increasing tight spaces of the Death Star II and had to be replaced shortly after with a identical one.
Appearances
Edit
Notes and references
Edit
External links
Edit
Community content is available under
CC-BY-SA
unless otherwise noted.