"Red Five standing by."
―Luke Skywalker
Red Five was the call sign of the fifth member of Red Squadron. There were a number of starfighter squadrons with this name, and several pilots went by the call sign Red Five.
History
[
]
A Delta-7 Aethersprite-class light interceptor pilot flew as "Red Five" with the Galactic Republic's Red Squadron under Jedi Master Mavra Zane in pursuit of Separatist leader Shu Mai over Felucia.[1]
An unknown clone trooper pilot went by the call sign of Red Five. He was killed during a mission to Tythe in 19 BBY.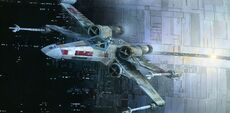 At the climax of the Clone Wars, Jedi Knight Anakin Skywalker flew an Eta-2 Actis-class interceptor in the Battle of Coruscant[3] under the designation Red Five.[4]
Rebel pilot Luke Skywalker flew a T-65 X-wing starfighter as Red Five in the Battle of Yavin,[2] and on a mission to Lubang Minor approximately seven months later.[5] After the Battle of Endor, Skywalker resumed his use of the call sign in a battle at Tandankin.[6]
Due to a lack of personnel, the wookiee smuggler Chewbacca was assigned to Red Squadron and took on the call sign during a reconnaissance mission to Kamino.[7]
Grizz Frix flew as Red Five at the Battle of Endor,[8] during which he was killed in the explosion of his X-wing starfighter.[9]
Shortly after the Alliance's victory at Endor, a pilot using the call sign Red Five flew with the Rebel Bakura task force during the planet's invasion by the Ssi-ruuvi Imperium. "Red Five" led an element of Red Squadron tasked initially with protecting the Quasar Fire-class bulk cruiser Flurry, before being reassigned to the defense of Rogue One Wedge Antilles.[10]
Behind the scenes
[
]
In the novelization of Star Wars: Episode IV A New Hope, the pilot identified as "Pops" uses the call sign Red Five,[11] while the film gives him the call sign Gold Five.[2]
Red5 was used as a cheat code in Star Wars: Jedi Knight: Dark Forces II which granted the player all weapons and full ammunition.
Red Five is the inspiration for the call sign of the parodic character Pink Five.
Appearances
[
]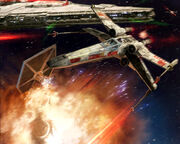 Sources
[
]
Notes and references
[
]