(22 intermediate revisions by one other user not shown)
Line 1:
Line 1:
−

{{Eras|imp}}

+

{{Eras|imp}}

−

{{Conjecture}}

+

{{Conjecture}}

−

[[Image:Refreshmentdroid.jpg|thumb|right|190px]]

+

[[:Refreshmentdroid.jpg|thumb||]]

 
+
−

'''Refreshment [[droid]]s''' were short, cylindrical-bodied, wheeled models resembling many [[astromech droid]] models. There purpose, however, was more mundane. They served refreshments at public events such as [[garbage pit]] races.

+

'''Refreshment [[]]''' were short, cylindrical-bodied, wheeled models resembling many [[astromech droid]] models. There purpose, however, was more mundane. They served refreshments at public events such as [[garbage pit]] races.

 
+
 
+

{{Droid-stub}}

 
 
 

==Appearances==

 

==Appearances==

−

*''[[Star Wars Republic: Honor and Duty]]'' {{1st}}

+

*''[[ Republic: ]]''

 
+

*''[[Star Wars: Jango Fett]]''

−

[[Category:Fifth-degree droids]]

 
 
+

*''[[Star Wars: Republic: Honor and Duty]]''

 
+

*[[Star Wars: Episode VI Return of the Jedi|''Star Wars'': Episode VI ''Return of the Jedi'']] {{1st}}

 
+
 
+

[[Category:Service droid models]]
---
Latest revision as of 19:45, 1 October 2019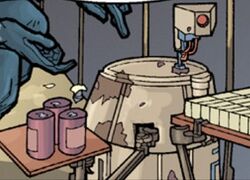 Refreshment droids were short, cylindrical-bodied, wheeled models resembling many astromech droid models. There purpose, however, was more mundane. They served refreshments at public events such as garbage pit races. R2-D2 served a similar function while aboard Jabba the Hutt's luxury sail barge, the Khetanna.
Community content is available under
CC-BY-SA
unless otherwise noted.