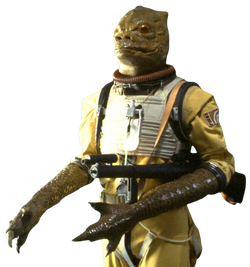 Reptiles (adjectival form reptilian) were a class of lifeforms exemplified by the dewbacks,[1] the Rodians,[2] the dalgos,[3] the Trandoshans,[4] and the entity known as Orphne.[5] The planet of Dagobah was home to a number of quite common reptilian creatures.[6] One particular category of reptiles were the lizards, examples of which included the Tauntauns,[7] the mysterious Zillo Beast,[8] the brezaks,[9] and the varactyl.[10][11] For those seeking extreme pets, reptiles offered some exciting choices such as the rancor and roggwart; however, nobody could tame the most fearsome reptiles, including the zillo beast and dragonsnake.[12]
Community content is available under
CC-BY-SA
unless otherwise noted.