Jurassic World: Dominion Dominates Fandom Wikis - The Loop
Play Sound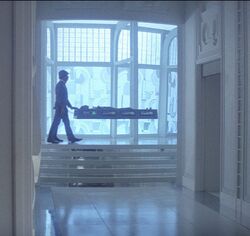 Repulsorlift was a technology that allowed a craft to hover or even fly over a planet's surface by pushing against its gravity, producing thrust.[1] Repulsorlift engines or "antigravs" created fields of negative gravity called "repulsor fields" which pushed against a planet's natural gravitational field.[2]
Vehicles that utilized the repulsorlift technology as their primary method of propulsion, including speeder bikes, were known as repulsorcrafts.[1] Bakur Repulsor Corporation was one such manufacturer of the engines,[3] while Aratech Repulsor Company was a manufacturer of craft that utilized this technology.[4] Vehicles that used repulsorlift technology included the Gian heavy patrol speeder,[5] the Single Trooper Aerial Platform (STAP),[6] the Flash speeder,[7] the AAT Battle Tank,[8] and the patrol transports.[9]
On starships, repulsorlift engines were a secondary form of propulsion, used for atmospheric flight and docking procedures. On many ships like the YT-1300 light freighter there was a dedicated fusion generator to power the repulsorlifts,[2] though smaller ships like the X-wing starfighter drew energy from the sublight engines to power their repulsorlifts.[10]
Repulsorlift technology could be used in everyday items such as chairs,[11] and speaking platforms.[12] It was also possible to weaponize repulsor technology to create shockwaves capable of repelling enemies in a similar manner to a Force push, notably being implemented in Mandalorian vambraces[13] and by the Haxion Brood's bounty hunters.[14]
Appearances
[
]
Non-canon appearances
[
]
Sources
[
]
Notes and references
[
]